In April 2014, Jenifer Baldwin, Brian Boling, John Pyle, Caitlin Shanley, and Jackie Sipes formed a small work group with the aim of providing mutual support and encouragement in the development of code skills.  Spurred by calls for liaison librarians to "up-skill" in new areas, but honoring the practical reality of heavy workloads in our current areas of expertise and responsibility, the aim of the group was, initially, to keep each other motivated while completing a series of online tutorials over the course of the summer.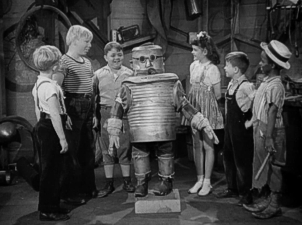 Since our choice of online-learning platform was Treehouse.com, we took inspiration from TV's Little Rascals, who often met in their own treehouse, and named ourselves Code Rascals.  We committed to set aside a single hour each week on our calendars, to meet whenever possible, or otherwise use the hour for work time.  We proceeded in a spirit of friendly experimentation, information sharing, and non-judgmental collaborative learning.  We launched ourselves with no specific charge, agenda, or deadline, trusting instead that our goals, direction, and priorities would emerge and evolve with time.
Here on this blog you will see brief updates from our evolution as individuals and a group.  To start out these posts are pre-dated, reflecting our meeting notes from the last six months.  Going forward you'll see more about the interesting things we learn and even challenges we encounter.  Cool stuff, reflections on our experience, and news of what's to come.