Lauren Towers, laurentowers@temple.edu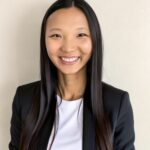 Hi, my name is Lauren Towers. I am from Bucks County, Pennsylvania. I graduated from Neshaminy High School in 2020. I am currently an undergraduate at Temple University majoring in Chemistry, and I am expected to graduate in 2024. Outside of lab, I enjoy gymnastics and spending time with friends and family.
Lauren's research focuses on the interaction between porous material metal-organic frameworks and chemical warfare agent simulants using temperature-programmed mass spectrometry and temperature-programmed infrared spectroscopy.