We've been hard at work getting things ready for the launch of WordPress 5. And given that WordPress 5.0 brings some pretty significant changes with the editor we decided to take the opportunity to make some pretty significant changes ourselves.
New design
The old design had been in place for a couple of years and was starting to look fairly dated. So we asked one of our talented web designers to come up with a new look. We hope you like it. We think it'll streamline your experience. We're also using it to show off some of the new features that we think you'll love and use. From fixed background images while scrolling, to single page design, to Google Fonts (yes, you're no longer limited to the built in fonts). There's lots available.
New themes
Although there's a couple of old favorites hanging around, for the most part we now have all new themes. Why the sift? Well, some of the old themes weren't very usable to people who had disabilities. Plus some of the old themes hadn't been updated in quite a while and we couldn't be sure they would work with all of the new changes in WordPress 5. So, we scoured the net looking for new themes. But with these new themes there's lots of new features, and how do you know which themes have which features? Well, we've built a new theme page that will allow you to filter down the list of available themes to display only those with the options you want.

If you have an old site with one of the older themes that's not listed anymore, don't worry. We're not making you get rid of it. We just don't want any new sites created with it. We're pretty happy with the new list and think you will be to. We carefully curated the list of themes to make sure they are all accessibility-ready, and that they support the new editor.
New editor
Did we mention the new editor? It's new. (Officially it's called Gutenberg, but you probably don't care about that.) If you don't like the new editor, don't worry we're letting you keep your old, "Classic", editor, if you want it. To make it an easier transition, any site that previously existed on Sites has the old, "Classic" editor enabled by default. If you want to try out the new editor, read our support page on how to switch editors. Any new sites that are created will use the new editor. What's so new about it?
Blocks. Those wonderful blocks. Blocks allow you to have little pieces of the web (text, headings, images, lists, quotes, videos, just about anything really) that you can position where you like.
Fixed background images while scrolling (just insert a cover image block and change the settings so it's a fixed background. Simple as pie.)
Single page design couldn't be easier.
Drag columns to change widths.
Drop caps.
What you see is what you get (and I'm not just talking about font formatting).
Trust that your editor looks like your website.

Do more with fewer plugins.

Create modern, multimedia-heavy layouts.

Work across all screen sizes and devices.
Want to try out the new editor? We though you would. The wordpress.org/gutenberg site has a live demo you can play with. Cool huh?
Streamlined Plugins
We also took the opportunity to review the plugins we were using. A fair number were out of date and needed to be discarded. They're no longer available. Over the past few months we also added quite a number of new plugins. However, a fair number of these are add-on's to Gravity Forms, one of our more popular plugins. However, if you don't use Gravity Forms these add-ons would just clutter up the list of plugins. No more. Now you'll only see the Gravity Forms add-on plugins after you activate Gravity Forms.
Some notable new plugins:
Classic Editor – Don't like the new editor, activate this to use the old one instead.
Easy Google Fonts – Modern websites use a modern fonts. Activate this then customize your theme with Google's fonts.
Elementor – An alternative page builder, in case you're not a fan of the new editor.
Parallax Scroll by Adamrob.co.uk – Another way to add Parallax scrolling to your site.
International Support
Temple University draws students from around the world. We now offer the ability to change the default language of your site to one of a dozen different languages. (Caveat: some elements will still show in English. This isn't our fault. We're doing the best we can with what WordPress gives us.)
Write a blog to let the friends and family back home know how you're doing and how you like the United States. Share your pictures with them. Let them know you're safe and sound, and doing great in school.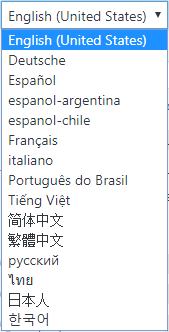 Give the new Sites a spin… we hope you like it
Even if you don't, you can always use the Classic editor. (And hey, feel free to switch back and forth between them until you figure out which one you really like.)