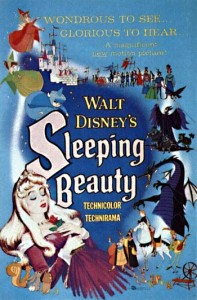 When choosing a Disney movie to examine for historical context, Pocahontas or Davy Crockett, King of the Wild Frontier, may appear to be the obvious option. I chose to view and analyze Sleeping Beauty instead. I did not do it for the challenge, I did it, truth be told, because it is the only Disney movie I own! It is also one of my favorites. This film was released in 1959, but the story is much older. It is a fairytale that Charles Perrault has been credited with writing back in the seventeenth-century. Historians believe there are even earlier versions dating back to the fourteenth-century. No matter how old the story is, the Disney interpretation of the tale would no doubt reflect the time period of the 1950s. My goal in watching this film was to try and decipher the less obvious historical messages in the movie.
For those unacquainted with the story of Sleeping Beauty, it is about a princess who was put under a curse by the villainess Maleficent. The Princess Aurora was to prick her finger on a spinning wheel and ultimately die before her sixteenth birthday. The curse did not work as intended as Aurora ended up falling into an eternal sleep, but would awaken with true love's kiss.
Knowing this movie was made during the Cold War, I automatically felt I should see Maleficent as a communist. It must be there somewhere, right? Nope. She was not spreading a message of anti-capitalism. She was not against individuality. Perhaps she was against free speech as Princess Aurora could not speak during her deep sleep, but I think that's stretching it a bit. I mostly saw a jealous woman hurt because she was not invited to a party celebrating Aurora's birth.

While the movie did not strike me as having a particular anti-communist message, it did have religious undertones to it. The 1950s brought about a religious revival. This was a result of the anti-communist, anti-atheist feelings on the 1950s. Maleficent is presented as having big devil horns on her head. She breathes fire as she is transformed into a dragon. The villainess is seen as evil as the devil himself. On the opposing side, there are the three fairies, Meriwether, Flora and Fauna. They represent the good. They look like nuns. The trio wear dresses and habits; the only difference is they do not wear black and white, but rather blue, pink and green. They adopt and raise the princess Aurora just as nuns would in an orphanage.
The movie Sleeping Beauty also shows how the 1950s valued motherhood and the female being the homemaker. The three fairies were thrilled at the chance to raise Princess Aurora. Motherhood was something that was denied to them. Now they had a chance to take on the "sole important role" for a woman and be a mother. When it came to doing domestic work such as baking, sewing and cleaning, the film pokes fun at them as they could not tackle these projects without using magic.
While Sleeping Beauty is not inspired by a particular historical figure or event, history can be found in unlikely places such as this Disney cartoon.