When L. Frank Baum created The Wonderful Wizard of Oz in 1900, he  probably did not envision it becoming one of the most legendary pieces of literature in American history.  The chances that he saw the direction it would take itself are even slimmer.  The children's story that also (likely) served as an allegory for 19th century populism is, at this point, more well known for its 1939 film adaptation, this time titled The Wizard of Oz.  The movie adaptation focused itself on the fantastical world created by Baum and featured songs written specifically for the movie that have become iconic in their own right.  For example, it is hard to think of the story separately from "We're Off to See the Wizard," and "Over the Rainbow" was named the best song of the 20th century by the Recording Industry Association of America.[1]  The film turned the story into one of the most well known ever, which is certainly an accomplishment, but in doing so, the story of The Wonderful Wizard of Oz lost its original allegorical significance.  Instead, The Wizard of Oz is thought of as one of the greatest family movies and Oz came to be a wondrous and fantastical paradigm of utopias in cinema.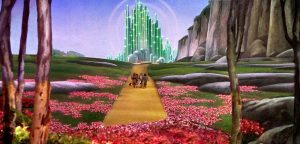 [2]
Following the 1939 film adaptation, the story was adapted into another musical and subsequent film, The Wiz, this time featuring an all-black cast, all new songs, and a re-imagination of the land of Oz in a New York City setting.
In his essay "The Work of Art in the Age of Mechanical Reproduction," Walter Benjamin argues that "the technique of reproduction detaches the reproduced object from the domain of tradition."[3]  In the case of The Wonderful Wizard of Oz, this could certainly be true.  In the adaptations of Baum's original story, the original allegory was lost as the overall themes changed to match the times of their respective releases.  The way the recreations altered the way people think of The Wonderful Wizard of Oz is naturally due to the changes made in each story, but that does not mean the original is tainted or disrespected: the tale likely owes its iconicity to these recreations.  Martin Kemp, who disagreed with Benjamin over the effects of reproduction, said: "any widespread broadcasting of fame ensures that the embodying of a special presence in the original is enormously enhanced." [4]  In the case of The Wonderful Wizard of Oz, both are certainly true.  Much of the original story changed, but the wonderment and the whimsy remained.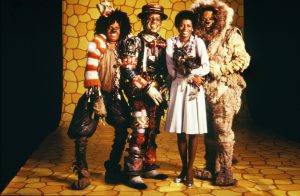 [5]
[1] "Best Songs Of The Century?" CBS News, March 08, 2001, accessed March 01, 2018, https://www.cbsnews.com/news/best-songs-of-the-century/.
[2] The Wizard of Oz (1939).
[3] Walter Benjamin, "The Work of Art in the Age of Mechanical Reproduction."
[4] Martin Kemp, Christ to Coke: How Image Becomes Icon (Oxford: Oxford University Press, 2011).
[5] The Wiz (1978).