In our group discussions on Wednesday, a lot of us discussed that Maureen Schwarz's article "The Marketing of Euro-American Desires" opened our eyes. I hadn't realized how the ethnic Barbies, like the Native American Barbie, were packaged. In our discussion, Deja explained this best. She said that we weren't so much concerned with how ethnic groups are being represented because we were just glad to see that there are other groups being represented.  Which makes sense. We become so excited to see ourselves represented, but it isn't until someone points it out that we realize something is wrong. One major issue Schwarz points out is the descriptions on the back of the Native American Barbie boxes. These descriptions only show up on ethnic Barbie boxes and they try, but fail, to teach kids about a certain type of even, tradition, or custom. She explains that most of the descriptions on the back of the boxes were representations of "generic Indian identit[ies]" and traditions (Schwarz 302).
One that caught my eye was the 1994 Teresa Quinceañera doll. On the back of the box, it "describes" what a Quinceañera is:
"Quinceañera 'A Day to Remember Forever!' On her 15th birthday her family gives her a big party in the evening with many presents.  The birthday girl chooses a beautiful pink gown, carries a bouquet and has attendants too.  During the festivities, her father proudly presents her to all the guests.  With a specular cake and lots of music and dancing, it's a wonderful celebration that every girl looks forward to and never forgets."
The description of a Quinceañera devalues what is probably one of the most significant moments in the life of a young Latina. What is the difference, then, between a Quinceañera and a Sweet Sixteen? According to the box, there is no difference. But the Quinceañera is not only a birthday party; it's also a religious observance.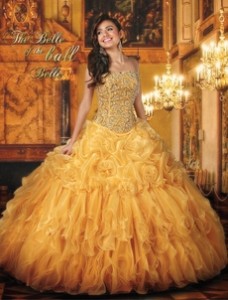 A Quinceañera is a coming of age party where the birthday girl gets a male escort and a "court" of ladies and gentlemen. There are also two major parts: the church service and the actual party. The Quinceañera starts off with a church service in which the birthday girl receives a bible to help her walk as a young woman of God, a tiara because she is a "princess of God", and scepter as a symbol of her receiving her "duties as a woman". With a quick word and a prayer, the church ceremony is over.
At the party, the birthday girl goes through various other traditions. First, the father of the birthday girl will remove her low shoes and replace them with her "first high heels" as a young woman. Then they will have their first father/daughter dance. Dolls are also very important. During the party, the birthday girl will give her younger sister or a close (young) female relative her "last doll". It symbolizes her leaving her childhood behind.
Almost all of this is missing in, not only the description on Teresa's box, but also Teresa herself. She has almost none of these representations of a young girl turning into a young woman. M.G. Lord said that, "Toys have always said a lot about the culture that produce them" (Lord 16). From the look of it, our culture isn't too concerned about getting things right.