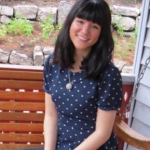 Victoria Gunn
Junior majoring in Japanese and minoring in Art. Debated philosophy all four years of high school. Previously humanities and philosophy major at a university in the States before transferring to TUJ.
                                          Contact: tuh24802@temple.edu
Sayaka Takamori
A sophomore student at TUJ majoring in General Studies.  Passionate about studying philosophy. We welcome anyone interested in discussing philosophical topics at the Philosophy Café discussion club.
Contact: tuh41791@temple.edu