Thank you for your interest in the Pincus Family Foundation Fellowship. This page gives you more information on the Foundation, the fellowship, and how to apply.
What is the Pincus Urban Health Fellowship?
The Pincus Urban Health Fellowship is a program that provides healthcare professionals a well-rounded education about the state of pediatric health in urban communities, and the skills needed to develop and implement new innovations addressing this population. The Fellowship was established in 2016 through the generous support of David N. Pincus and the Pincus Family Foundation. A goal of the Pincus Urban Health Fellowship is to build a team knowledgeable of, committed to, and embedded in dense, diverse, and disparate urban communities such as North Philadelphia.
In year one, Fellows will take the core curriculum for the MA Urban Bioethics, a series of courses that lay the theoretical and methodological groundwork for Fellows' eventual project development. Coursework provides a clear understanding of the health disparities our urban children face every day, and Fellows will learn how social determinants of health, exposure to adverse experiences, violence, food insecurity, and poverty affect children's long-term health. How these experiences impact growing health care costs and the successes and failure of current health care policies at the local and national level will also be explored. In addition to classroom didactic courses, Fellows will participate in a year-long, longitudinal, community engagement course that is founded on community-driven project development. All in-person classes are offered on the Lewis Katz School of Medicine campus in North Philadelphia with Zoom options for Fellows who are not local.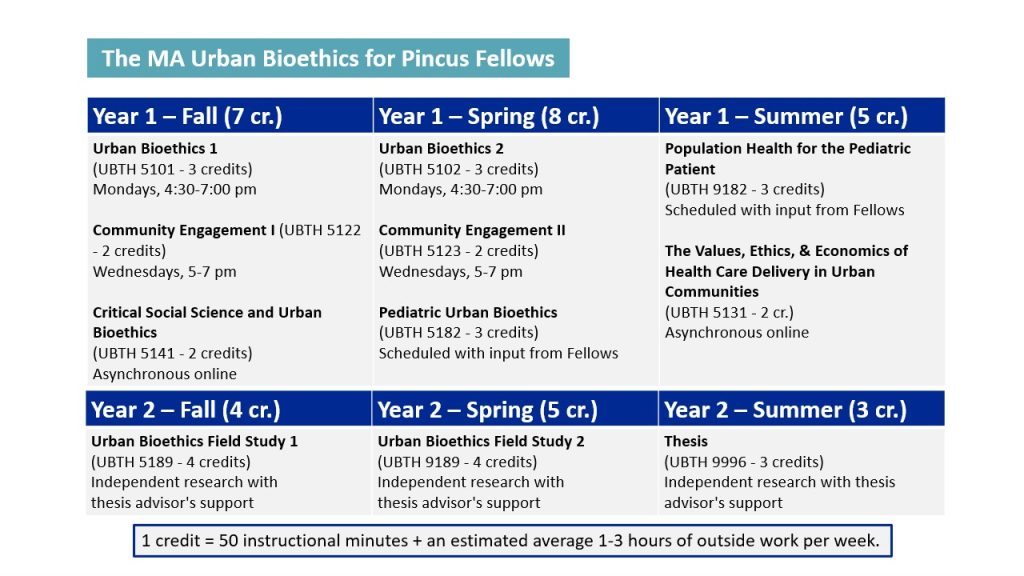 During the second year of the Fellowship, the Fellow will identify a specific pediatric, urban problem evident in North Philadelphia and work with academic, medical, and community mentors to develop, implement, and evaluate an innovative intervention with the goal of improving pediatric health in a fiscally sustainable way.
The third year of the Fellowship is designed to support Fellows in achieving their own disciplinary and career specific goals for their project. This may include activities such as forging and strengthening their professional network, submitting their thesis for publication, presenting their work at conferences, and applying for grant funding to continue their project beyond the Fellowship. Fellows will be invited to guest lecture in the introductory MAUB courses and will be supported in continuing to develop their presence as public intellectuals and engaged practitioners.
Who Should Apply?
All those who desire to gain the skills needed to work towards greater health equity for our children are invited to apply. We particularly encourage applicants who are 3-5 years post residency, and/or have prior post-graduate education in a related field (i.e., an MSW or MPH). These characteristics are not required of applicants, and the selection committee will review all applications.
While our Fellows to date have been local to Philadelphia, we are open to applicants from other areas and have the ability to be adaptable and creative in making this work. Please reach out to the Fellowship Director, Dr. Nora Jones at nora@temple.edu with any questions about this.
How is the Fellowship coordinated with clinical and other responsibilities?
The leadership of the Pincus Fellowship works closely with your department and supervisors to ensure that all the behind-the-scenes arrangements are made and that you are logistically able to devote 50% of your time to the Fellowship in the first two years and 25% in the third year.
What is the MA Urban Bioethics, and am I responsible for any tuition?
Fellowship covers all the tuition and fees for the MA Urban Bioethics coursework as well as some funding for other support, depending on the Fellow's needs, such as attending and presenting at conferences, tools and training for building an online presence, supplies and participant incentives for your project, and other training.
Urban Bioethics is a growing field that points a critical lens on the extreme inequalities of health and access to medical, legal, and other resources that leaves many urban dwellers and communities distinctly disadvantaged, disenfranchised, and vulnerable. The MA Urban Bioethics trains students in the ethics and values of health, health care delivery, and health law and policy underlying the urban context of density, diversity, and inequalities.
Coursework is practical, methodological, and theoretical. The degree is designed for professionals who face, or will soon face, the complexities and disparities of urban health, and want specialized training in the ethics, values, and politics of health care in our increasingly multi-dimensionally diverse society.
How do I apply?
To apply, please complete the application and request that your supervisor email their letter of support to maub@temple.edu by January 31, 2024.
---
We hope this FAQ answers any questions you might have, but if not, please email Dr. Nora Jones, associate director of the Center for Urban Bioethics, Temple's home for the Fellowship.