Guitar Studio of Allen Krantz
Wednesday, February 27th, Noon
Temple University Paley Library Lecture Hall
Free and open to the public
Light refreshments served. Boyer recital credit given.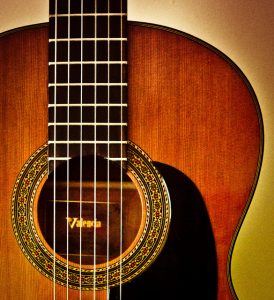 The guitar, currently a mainstay of popular music, has a long history and wealth of literature preceding its use in rock bands and college dorm rooms. The type of guitar that Allen Krantz and his students will be using is called the classical guitar (also known as the nylon-string guitar or the Spanish guitar). The main difference between classical and acoustic/electric guitars is the material of the strings. On a classical guitar, the strings are made from either gut or nylon, whereas the acoustic/electric guitar has metal strings. Another difference would be the way that the guitar is held while being played. (For right-handed players) Classical is propped up by the left leg and the modern steel-string guitar is played off of the hip.
Sometimes the term "classical guitar" isn't even describing the instrument itself, but instead one of two concepts:
– The playing technique where individual strings are plucked with the fingernails
– The instrument's literature
Music written specifically for this instrument dates back to the addition of the sixth string to the baroque guitar in the late 18th century. A classical guitar will also play pieces originally written for lute, vihuela, or the cello as well as works specifically written for guitar. The most well-known composer of works performed on guitar is who s J.S. Bach who never wrote for the instrument. Instead, his baroque lute works are a mainstay in classical guitar literature.


Not many concertos were written for the guitar, however, two Italian composers wrote famous concertos for the guitar: Antonio Vivaldi and Mauro Giuliani. Allen Krantz and his students will be performing literature from the classical guitar's extensive repertoire with a focus on these great Italian composers.
A third Italian composer Nicolo Paganini was also a guitarist. He once said, "I love the guitar for its harmony; it is my constant companion in all my travels." Paganini's relationship with the guitar has only recently come to light – only a few of his compositions for the instrument have been published. The reason for this is disputed among scholars, but it appears to have something to do with the popularity of his violin works. Paganini's work for violin seems to have overshadowed his guitar works during the time of his publications, when in fact Paganini's work on technique was just as extensive on the guitar as it was with the violin.
The culture of the classical guitar has been cultivated over centuries, building its repertoire and technique as various schools utilized this flexible and well-rounded instrument. Allen Krantz and his students will be presenting many fine examples of this unique instrument and we hope to see you Wednesday, February 27th at noon for our Beyond the Notes concert series.
For more information see:
The Classical Guitar: A Complete History. London, England: Balafon Books, 1997. Paley Library ML1015.G9 C547x 1997
Dobney, Jayson Kerr, and Wendy Powers. "The Guitar." In Heilbrunn Timeline of Art History. New York: The Metropolitan Museum of Art, 2000–. http://www.metmuseum.org/toah/hd/guit/hd_guit.htm (September 2007).
Heck, Thomas F., Harvey Turnbull, Paul Sparks, James Tyler, Tony Bacon, Oleg V. Timofeyev, and Gerhard Kubik. "Guitar." Grove Music Online.  January 01, 2001. Oxford University Press.
________________________________________________________________________________________________________________
Stephanie George is a second-year masters student in Music Theory at Boyer College of Music & Dance. Stephanie completed a B.S. in Music Education and a B.A. in Music (concentrations in clarinet and music theory) from Lebanon Valley College in 2015, after which she secured a placement with Harford County Public Schools as a music teacher for Havre de Grace Elementary. Her master's thesis applies narrative theory to Chopin's second piano sonata using a variety of analysis techniques. Her research interests include Sonata Form, Narrative Theory, Schenkerian Analysis, and Pedagogy. After completing her masters, Stephanie plans to pursue a Ph.D. in Music Theory.