Pianist Clipper Erickson and the Music of R. Nathaniel Dett
Wednesday, February 7, 2018 | 12:00–12:50 PM | Paley Library Lecture Hall
Light refreshments served. Boyer recital credit given.
---
In 1926, historian Carter G. Woodson—sometimes referred to as the "father of black history"—declared the second week of February as "Negro History Week," a nod to the customary celebrations within African-American communities for Abraham Lincoln and Frederick Douglass that marked their respective birthdays on February 12 and February 14. Later that same month, the Minneapolis Symphony Orchestra performed a transcription of Nathaniel Dett's Juba, the concluding movement of his 1912 piano suite In the Bottoms. Accompanying program notes lauded Dett as "the foremost among living composers of Negro music, and the first American to utilize Negro folk tunes for classical development."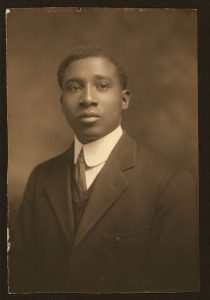 This projection of Dett as figurative musical alchemist synthesizing folk and classic elements followed him throughout his career as a pianist, composer, and choral conductor. As we celebrate Black History Month in February 2018—an expansion of "Negro History Week" first proposed in 1969—it is fitting that we are treated to a recital of Dett's piano music by Clipper Erickson, whose 2015 release My Cup Runneth Over: The Complete Piano Works of R. Nathaniel Dett was recently featured as an Editor's Choice album by Gramophone UK.
In a richly-detailed study of Dett's life and works, Anne Key Simpson describes the composer's birthplace of Drummondville, Ontario, as "a slave-founded town … largely populated by former slaves and their families, many of whom had arrived there via the Underground Railroad." Dett first learned to play by ear, but was soon compelled—sometimes by his mother's peach tree switch—to read notation when it was found that he had been mimicking his teacher's playing. From 1903 to 1908, Dett studied at Oberlin where he won the admiration of the faculty. In a sterling letter of recommendation, one professor wrote:
As a pianist he is very brilliant, his public performances always creating enthusiasm. His finger technique is finished and his natural musical ability is guided by the spirit of genius. He is a hard worker and a person of the highest character … a finely prepared musician of very unusual ability.
Dett's meticulous preparation and impeccable character served him well in his pursuit of musical excellence—he later studied at Columbia, Harvard, Eastman, and with Nadia Boulanger—but conversely marked him in some circles as restrained and scholarly. For much of his career, his critical reception bore traces of tension between acculturation and enculturation. In his 2012 book Racial Uplift and American Music, 1878–1943, musicologist Lawrence Schenbeck summarizes the aesthetic approach of Dett and many contemporary artists:
Within the cultural sphere, black elites often resorted to an aesthetic based on European models as a vehicle for cultural vindication. Their response to white America's pervasive minstrelsy-based constructions of blackness was to champion African American art that, while safely grounded in forms and styles derived from Shakespeare or Dvořák, was morally positive and politically inoffensive.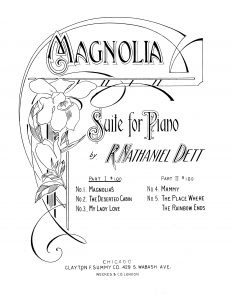 In Dett's hands, melodies and images of African American folk songs and spirituals were grafted onto Western European forms. Though his piano suites carry characteristic titles—Magnolia, In the Bottoms, Cinnamon Grove—they brim with characteristics of predecessor composer-pianists such as Chopin's expansive lyricism, Gottschalk's programmatic virtuosity, and Debussy's colorful harmonies. Mammy, the fourth movement of Magnolia, takes shape as the most nostalgic of nocturnes while the second movement of Cinnamon Grove, an arresting "Adagio cantabile" in D-flat major, can easily hold its own among any number of nineteenth-century compositions known as religious adagios.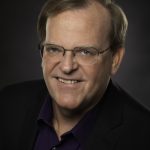 "Finely prepared musician" is also a fitting (and severely understated) description for Clipper Erickson. Following his debut at age nineteen as soloist with the Young Musicians Foundation Orchestra, the Los Angeles Times wrote: "he played with extraordinary dash and power and never let flamboyance obscure art." Erickson studied at The Juilliard School, Yale University, and Indiana University, and has won top prizes at international competitions such as the Busoni and William Kapell. He performs as soloist with orchestras throughout the United States in venues including the Kennedy Center in Washington, D.C., Carnegie Hall, and Symphony Space in New York, and serves on the faculties of Westminster Conservatory in Princeton, Temple University, and Rutgers University.
The February 7 performance by Erickson begins at 12:00 PM in the Paley Library lecture hall, 1210 West Berks Street. The program is free and open to the public. And lest you cannot attend, know that Dett was also a poet—his works can be both read and heard!
"The Rubinstein Staccato Etude"
Nathaniel Dett
Staccato! Staccato!
Leggier agitato.
In and out does the melody twist;
Unique proposition,
in this composition.
Alas! For the player who hasn't the wrist!
References and Further Reading
Brooks, Tim. Lost Sounds: Blacks and the Birth of the Recording Industry, 1890–1919. Urbana and Chicago: University of Illinois Press, 2004.
"Robert Nathaniel Dett" [Obituary]. Negro History Bulletin 7.2 (1943): 45, 47.
Schenbeck, Lawrence. Racial Uplift and American Music, 1878–1943. Jackson: University Press of Mississippi, 2012.
Simpson, Anne Key. Follow Me: The Life and Music of R. Nathaniel Dett. Metuchen, New Jersey, and London: Scarecrow Press, 1993.
---
Chad Fothergill is a doctoral student in musicology at Temple University's Boyer College of Music and Dance, and is the graduate assistant for the concert series, Beyond the Notes, at Temple University Libraries. He is also the editorial assistant for the journal Eighteenth-Century Music (Cambridge University Press). In addition to research and teaching, he remains active as an organist in solo, collaborative, and liturgical settings in the Philadelphia and New York City areas. He may be reached at chad.fothergill@temple.edu.
---
The series Beyond the Notes is supported by Temple University Libraries and Temple University's Boyer College of Music and Dance.