Beyond the Notes, Temple Library's Award-Winning Noontime Concert Series
Presents:
The Guitar Studio of Allen Krantz
Bach to the Future: Three Centuries of Guitar Music
Wednesday, November 11, 2015
Noon to 1:00 P.M.
Paley Library Lecture Hall
Of all the instruments employed in Western music, the guitar has possibly the most diverse and unique history (spanning over 300 years!). In the music of the Americas, the classical guitar has been employed to great effect by such composers as Heitor Villa-Lobos, Manuel Ponce, and Elliot Carter. In Europe, Andrés Segovia, Luciano Berio, and Ernst Krenek have popularized the instrument and composed guitar works which push the limits of technique.  The guitar has an incredibly wide range of repertoires, acoustical constructions, and geo-cultural associations; no other instrument — other than, perhaps, the flute — has such a vibrant presence in the musical lives of people across the globe. In the past, it has been a favorite instrument for such composers as Hector Berlioz and Ludwig van Beethoven, who praised the guitar as "a miniature orchestra in itself."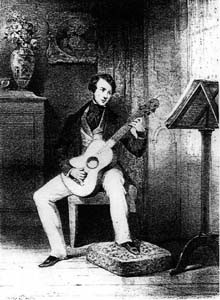 But by no means is this instrument a relic. In assembling the program for the upcoming Beyond the Notes concert, Allen Krantz and his guitar students chose original works and transcriptions by such good ol' boys as J. S. Bach and Franz Joseph Haydn followed by the modern masters Toru Takemitsu and Krantz himself. Such an eclectic mixture is bound to have more variety than your typical chamber music concert program. Included in our gang of composers are Spanish pianist Joaquin Malats, Italian guitar virtuoso Mauro Giuliani, and nineteenth-century Italian composer and guitarist Matteo Carcassi. Giuliani in particular is a leading guitar figure of the turn of the nineteenth century, bringing some historical gravitas to the program. Carcassi, a contemporary of Franz Schubert, is responsible for the wealth of pedagogical material now available to students all over the world. If you are studying classical guitar at the college level, you have likely already worked on a few of his twenty-five etudes.
All of the performers on this recital are members of Krantz's guitar studio at the Boyer College of Music and Dance. The group represents a healthy mixture of graduate and undergraduate students as well as a combined wealth of talent and musicianship. Not only have they prepared a far-reaching program of striking music, their performances are guaranteed to be equally as impressive, if not more (I have already heard a few of them myself). While you listen, I encourage you to indulge in the wealth of musical and cultural styles reflected in the contrast between performances of these works from Germany, Italy, Japan, the USA, and Spain. After all, it's rare that we get to hear Bach and Takemitsu on the same day!
Andrew Unger is the graduate assistant for the Noontime Concert Series at Temple University. He is a candidate for the MM in Music History at the Boyer College of Music, and appears as a horn player with the Temple University Symphony Orchestra and Wind Symphony. Reach out to him at andrewungerhorn@gmail.com.
Read more at the Paley Library:
Bacon, Tony et al. The Classical Guitar: A Complete History. London: Balafon Books, 1997.
Wade, Graham. Traditions of the Classical Guitar. London: Calder, 1980.
Turnbull, Harvey et al. "Guitar." Grove Music Online. Oxford University Press, http://www.oxfordmusiconline.com.libproxy.temple.edu/subscriber/article/grove/music/43006.
The above Grove article features an extensive bibliography including sources detailing guitar technique and notation, the structure of the instrument throughout history, the lives of great guitarists, and much more (temple credentials are required). A display with titles related to the classical guitar will be available to those who attend the concert.
Media links:
Digitized cassette recording of Andrés Segovia https://www.youtube.com/watch?v=zf00PYvWWvI.
John Williams performs a transcription of J. S. Bach's Cello Suite No. 1 https://www.youtube.com/watch?v=iER17E0nHnw.
---
Answer the Question to Win a $10 Gift Certificate!
How many strings does a modern classical guitar have and to what pitches are they tuned?
---
Temple University's Presidential Humanities and Arts Research Funding Program helps support Beyond the Notes.