Beyond the Notes: Temple Library's Award-Winning Noontime Concert Series
Presents:
Jeffrey Solow, cello
Elise Auerbach, piano
Musical Gems in a New Setting
Wednesday, October 21, 2015
Noon to 1:00 P.M.
Paley Library Lecture Hall
After a quick perusal of the chamber music program for the upcoming Beyond the Notes concert, the names Franz Joseph Haydn, Franz Schubert, and Carl Maria von Weber are sufficient to inspire some excitement. One may notice another name that may not be as familiar: Gregor Piatigorsky. Whoever this man was, he at least apparently arranged all four works on our program — one by Haydn, one by Schubert, and two by Weber — featuring cellist Jeffrey Solow and pianist Elise Auerbach.
Solow has purposefully hand-picked these four arrangements for cello and piano by Piatigorsky, an artist who is not as cloaked in mythology as are our three legendary composers. In fact, Solow studied with Piatigorsky for five years at the University of Southern California, during a time when the latter was highly regarded as a seasoned cello virtuoso and influential teacher.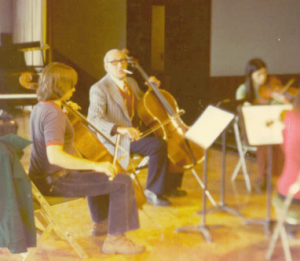 American cellist Gregor Piatigorsky was born in Ukraine in 1903. His performing career quickly skyrocketed when he interrupted his studies at the Moscow Conservatory to join the Lenin Quartet and earn the principal position in the Bolshoi Theatre Orchestra. Beginning in 1924, he served as principal cellist of the Berlin Philharmonic under the direction of Wilhelm Furtwängler. As he accrued notoriety as a soloist, he formed close professional and artistic relationships with the likes of pianists Arthur Rubinstein and Artur Schnabel, and violinist Jascha Heifetz. If those names are not enough to impress, consider the fact that Piatigorsky premiered cello concertos by Paul Hindemith and William Walton.
The autobiography Cellist explores Piatigorsky's adventures in more detail (including his daring escape from Russia into Poland). For now, let us refocus on our October 21st program.
When I asked Solow why Piatigorsky's arrangements for cello and piano are notable, he explained, "To sound natural and effective, a transcription (in this case, synonymous with "arrangement") often requires some creative recomposing. Piatigorsky had a special gift for changing aspects of the music in such a way that his transcriptions sound as though they were originally written for the cello." Moreover, the Classical period repertoire for cello and piano is somewhat scant (Beethoven's cello sonatas notwithstanding), providing ample opportunities for arrangements of music not originally composed for cello and piano to fill the gaps in chamber music programs. The juxtaposition of three Austro-Germanic composers living around the turn of the 19th century highlights key differences in their compositional style. Where Haydn is ebullient, Schubert is intimate and Weber is as virtuosic as he is soulful. During Solow and Auerbach's performance of Gregor Piatigorsky's arrangements, listen for these musical characteristics and decide with which style your personality mostly resonates. Regardless of your conclusion, we may surmise that Piatigorsky explored this music in a similar manner.
Andrew Unger is the graduate assistant for the Noontime Concert Series at Temple University. He is a candidate for the MM in Music History at the Boyer College of Music, and appears as a horn player with the Temple University Symphony Orchestra and Wind Symphony. Reach out to him at andrewungerhorn@gmail.com.
Read more:
Bartley, M. Grisha. The Story of Cellist Gregor Piatigorsky. 4th ed. New Russia, NY: Otis Mountain Press, 2oo4/2008.
King, Terry. Gregor Piatigorsky: The Life and Career of the Virtuoso Cellist. Jefferson, N.C.: McFarland & Co., 2010.
Piatigorsky, Gregor. Cellist. Garden City, N.Y.: Doubleday, 1965.
The Piatigorsky Foundation. http://piatigorskyfoundation.org/gregor-piatigorsky/.
Listen to eminent cellist Gregor Piatigorsky:
Arthur Rubinstein (Rubinstein, Heifetz, Piatigorsky) – Chopin, Liszt, Schubert, Mendelssohn (Documentary) https://www.youtube.com/watch?v=ut8dr4W2x4Q.
Handel/Halvorsen. Passacaglia. Jascha Heifetz, Gregor Piatigorsky. https://www.youtube.com/watch?v=bRfWGujoCf8.
Heifetz, Jascha and Gregor. Piatigorsky: historic performance film footage. Publisher West Long Branch, NJ: Kultur, 2005.
Temple University's Presidential Humanities and Arts Research Funding Program helps support Beyond the Notes.