Join us for a new and refreshing lunchtime break!  Renowned harpsichordist, scholar, and beloved teacher Joyce Lindorff and her students join us at Temple University Library on Thursday, March 12th, 12-1.
Although commonly associated with what we call the baroque period in music (ca. 1600-1750), the harpsichord now enjoys a rich and renewed repertoire as great composers of the twentieth and twenty-first centuries create music for this distinctively beautiful and timeless instrument.  Ravel,  Poulenc, Falla, Stravinsky, Carter, Cowell, Berio, Cage, Penderecki, Xenakis, Takemitsu, Ligeti, Hindemith, and Henze all wrote music for the harpsichord, contributing new and vibrant repertoire and giving the instrument's unique sound a contemporary spin.
The program includes:
Gyorgy Ligeti – Continuum, Passacaglia, and Hungarian Rock 
Ellen Taaffe Zwilich – Fantasy
William Albright –  Four Fancies
Halsey Stevens – Partita
Find out more!
Bedford, Frances, and Larry Palmer, Harpsichord and Clavichord Music of the Twentieth Century.  Scarecrow Press, 1993.
Bedford, Frances, and Robert Conant, Twentieth-century harpsichord music. Boonin, 1974.
Elste, Martin. "Harpsichord Music in the Twentieth Century," Grove Music Online.
Lindorff, Joyce. Contemporary Harpsichord Music:  Issues for Composers and Performers. Doctoral dissertation, The Juilliard School, 1982.  Open access.
Palmer, Larry.  Harpsichord in America: A 20th-Century Revival. Indiana U. Press, 1993.
Rockwell, John.  Concert! Joyce Lindorff, Harpsichord.  New York Times, March 29, 1987.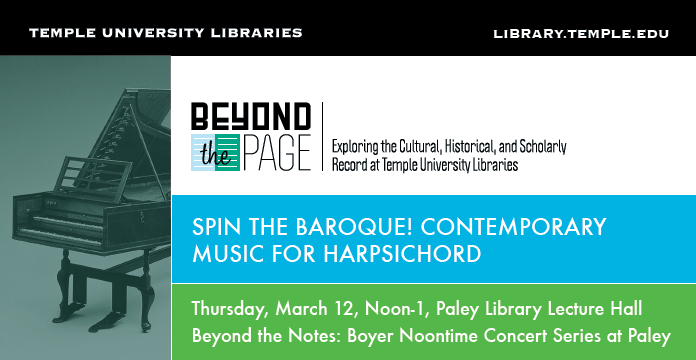 Bring your lunch. Bring your friends. Relax. Refresh. Renew. Enjoy.
Light refreshments served.
Boyer recital credit given.