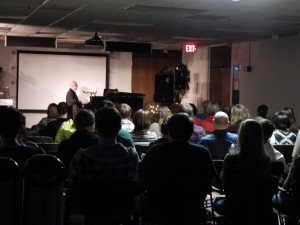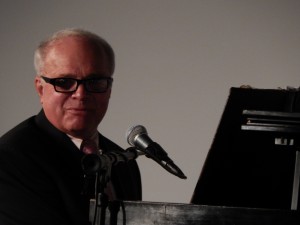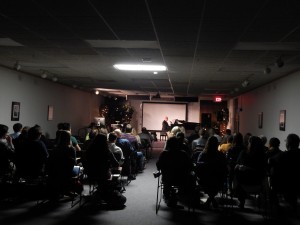 Bravo to John Johnson for his enlightening and entertaining presentation of songs by George and Ira Gershwin for the Noontime Concert Series at Paley on October 9th!  An eminently talented award-winning singer, pianist, and professor, John Johnson shared his knowledge and love for the Gershwin brothers in an event that inspired and  delighted all.   With piano melodies providing the setting, John told the story of a new piano arriving at the Gershwin residence in Brooklyn.  Originally purchased for the older son, Ira, the younger son, George, astonished the family by immediately sitting down and playing popular tunes.  The shy Ira often took a "back seat" to his gifted younger brother.  But Ira's unique genius in writing lyrics eventually  could not be denied.  The brothers' creative process involved George first writing the music, and then presenting the melodies to Ira for lyrics.  Even gifted lyracists such as Ira Gershwin, however, need time to develop lyrics of such genius.  Often George did not understand the work involved in creating lyrics and lost his temper with Ira.  George Gershwin originally wrote the tune for "Someone to Watch Over Me" in a very fast tempo.  One day, Ira interrupted George while he was playing this tune on the piano.  In order to listen to his brother, George kept playing but slowed down the melody.   Hearing the melody played slowly inspired Ira to write the lyrics to this beautiful beloved ballad.  George often used the pentatonic scale (black keys on the piano) in his melodies, such as "I Got Rhythm", "Fascinating Rhythm", "They Can't Take that Away from Me", and more.  George's musical genius with Ira's beautiful, eloquent, and often funny lyrics combined to form some of the most popular and memorable classic American songs of the twentieth century. The audience on Thursday even got to sing along to some of our favorites!  John Johnson's combination of talent, expertise, and charm provided a thoroughly wonderful experience for everyone.
On the next   Great American Songwriters concert, John Johnson will entertain and enlighten with songs of Irving Berlin.  Mark your calendars for Thursday, December 4th at noon, Paley Library Lecture Hall.
Kudos to David Brown and James Johnson (no relation to John!) for their tremendous help with lighting, sound, and everything else!
*************************************
The sensational Dr. Charles Abramovic and his studio (from "Springtime in Paris" fame last semester) return to present "The Russians are Coming!  Early Russian Animated Shorts with Piano Pieces by Shostakovich"  for the next Noontime Concert!  This event is simply not to be missed! Paley Library Lecture Hall, Thursday, October 30th, 12:00 – 1:00 PM.  Costumes permitted.  😉
 *************************************