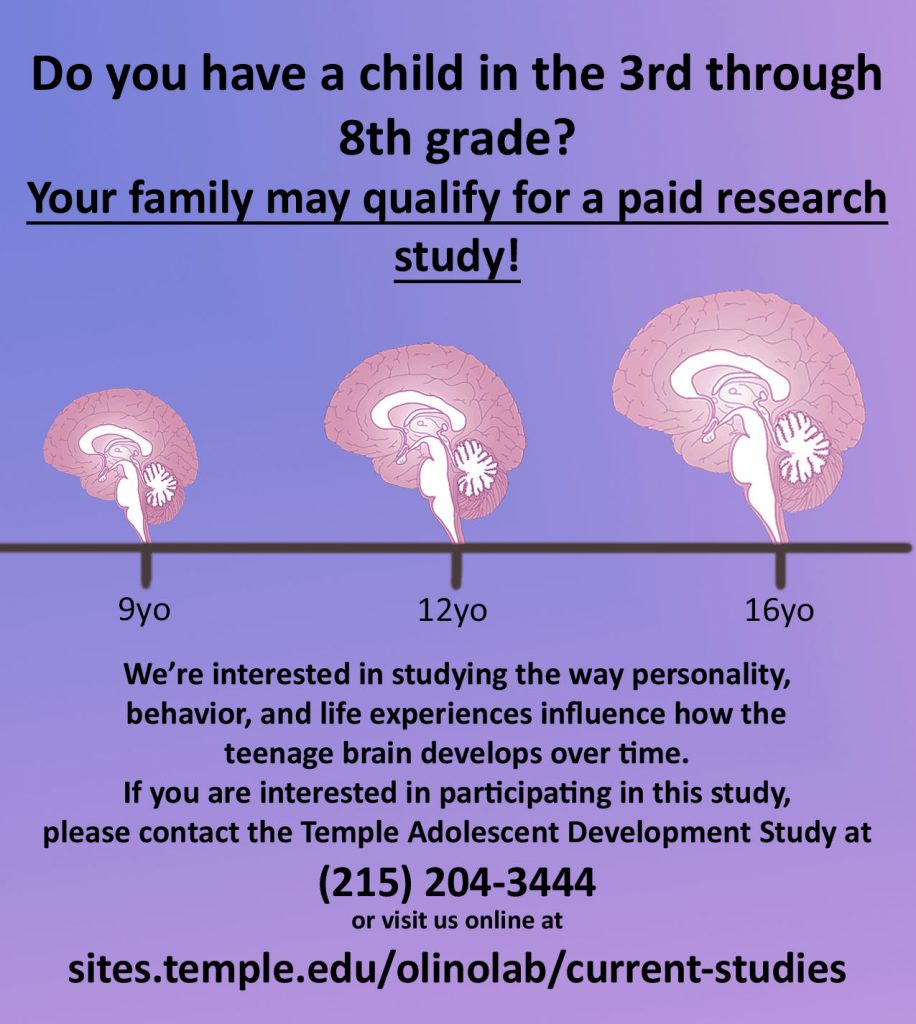 Temple Adolescent Development Study (TADS)
We are no longer recruiting caregivers and children for a study examining how many factors, including child personality, behavior, brain functioning, family functioning, parental personality and behavior are related to multiple child outcomes. Specifically, we hope to better understand how altered developmental changes in reward responsiveness may account for the relationship between parent and offspring depression. This study involves several visits to Temple University and Jefferson University Hospital over the course of three years, at 9 month intervals
If you are interested in participating in Project TADS, please complete a brief survey to determine your eligibility by following the link below:
https://clatemple.az1.qualtrics.com/SE/?SID=SV_72jBza8mT1HZ8sB
Undergraduate Imaging Project
We are no longer recruiting Temple University undergraduate students for a study examining how a multitude of factors (i.e. personality) influence neural response to rewards. This study involves one visit to Temple University Main Campus (Weiss Hall) and an additional visit to Temple University Hospital MRI Center. Participants will be compensated with both SONA credits and cash.
Approach Motivation in Undergraduate Students
We are no longer recruiting participants for a study that examines how trait and state level differences in personality and affect influence reward seeking behavior. By utilizing a multimethod approach (behavioral tasks, self-report questionnaires, mood induction techniques, neuroimaging), we are seeking a more comprehensive understanding of how individual differences impact reward motivation, as well as how tasks assessing reward incentive are related to one another.
Adolescent Depression and Reward Functioning Study
We are no longer recruiting mother/adolescent dyads for a neuroimaging investigation examining the impact of positive emotionality and parental history of depression on the development of depression in adolescents/young adults. Specifically, we hope to better understand the cross-sectional differences in positive emotionality between youth with and without parental history of depressive disorders, as well as the predictive value of brain-based and self-reported measures of PE for the development of depressive symptoms in adolescents.