Livingstone Undergraduate Research Award in the Humanities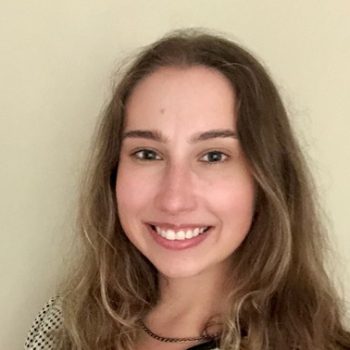 Two Guns for the Reds: Bessie Burchett, Antisemitism, and Far-Right Philadelphia
View Emily's project online
in TUScholarShare, Temple University's institutional repository
My project discusses the anti-communist activism career of Bessie Burchett, who was a full-time teacher, part-time right-wing agitator in Philadelphia. Specifically, I provide the context of the national culture wars waged during the 30s, and focus on the antisemitism and white supremacy that was at the root of Burchett's activism.
What is your major and expected year of graduation?
Graduated December 2020, History major
What inspired you to pursue your project? 
I was inspired to pursue this topic primarily by the story of Julius and Ethel Rosenberg, and the HUAC hearings in which 79 of 124 people questioned were Jewish. While these events represent examples of antisemitism on an institutional level, Bessie Burchett represents how popular antisemitism spreads from misinformation.
What does winning this award mean to you?  
I am so grateful to receive this award, as it gives me the perfect head start to advanced study in History. With this award I have financial support to pursue graduate school, in which I would like to keep researching similar topics.
How did the Libraries support your research?
I would not be able to complete this project without Temple Libraries, as they are the only archive I know of that has any primary resources on Bessie Burchett. Furthermore, with assistance from Temple Library staff, I found avenues to explore that I would not have considered by myself while searching for more information on Burchett.
Emily Collopy is a researcher and writer with a talent for creating histories that speak clearly to our present. Her prize-winning paper analyzes the career of a Philadelphia high school teacher who became a divisive figure in the 1930s by launching attacks against claimed communist influence in local schools. By conducting original primary source research in the Jacob H. Gomborow Papers held by Temple University Libraries, Emily was able to uncover a fascinating and unsettling local story and then connect it to wider histories of gender, antisemitism, and anti-immigrant politics. The excellent final product eloquently testifies to all the tenacity, intelligence, and commitment that Emily showed over the course of a challenging semester. 
—Travis Glasson, Associate Professor,  Department of History
About the Award in Humanities:
This category covers research methods in the humanities (in both traditional and digital forms). Disciplines represented include such fields as Art History, Classics, Literature, Film Studies, Linguistics and Languages, History, Philosophy, and Religious Studies. Much of the scholarly output in the humanities relies upon traditional library research methods using primary and secondary sources, though the specific source types consulted will vary from discipline to discipline.



This award is generously sponsored by John H. Livingstone, SBM '49.