As I am in the midst of working on my master's thesis here at Temple, I have been conducting a number of oral history interviews. These interviews document the experiences of Lumbees who migrated from North Carolina to Philadelphia after the Second World War. This week, I was searching various archives websites to see what kinds of oral histories they preserve and how accessible they are to the public.
In my searching, I stumbled upon this oral history interview of my great-great grandfather, Dannie Chavis (pictured below), conducted by Adolph Dial (pictured above). The transcript for the interview is housed at the Samuel Proctor Oral History Program at the University of Florida, while the audio file is housed at the University of North Carolina at Pembroke Special Collections Library. I have read the transcript of this interview before, but this was the first time I had ever come across the interview. My guess is that it was recently uploaded onto the digital database.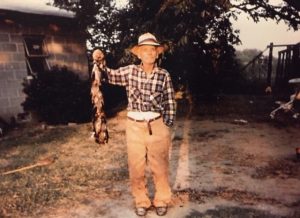 Stumbling upon this oral history interview made me think of two things.
Why are oral histories significant and worthy of preservation?
How do archives preserve oral histories, and how accessible are they?
Obviously the interview that I mentioned has significant value to me and my family. However, I would argue that even though we would probably classify it as a poorly executed interview, it is worthy of preservation because of its historical significance and uniqueness. American Indian history, and Lumbee history specifically, is generally underrepresented in the written historical record. Oftentimes, oral histories serve as the starting point for approaching historical research on Indigenous histories.