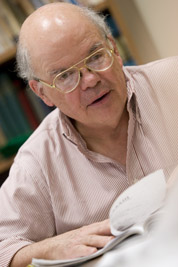 [ensemblevideo contentid=iucNBAWP30OfDP1OaFTFfA audio=true showcaptions=true displayAnnotations=true displayattachments=true audioPreviewImage=true]
Classical scholar M. I. Finley (1912-1986) was involved in many of the momentous intellectual, political, and social issues and debates of the 1930s and 1940s. He came to the study of the ancient world by a circuitous route, graduating with a B.A. in psychology from Syracuse University in 1927 (at age 15), an M.A. in public law in 1927 and a PhD in history in 1951 (both advanced degrees from Columbia University).
Between his M.A. and Ph.D. Finley worked briefly at General Motors, was an editor of the groundbreaking Encyclopedia of the Social Sciences, fought against Nazi race theories, and organized Russian relief during World War II. Finley was in contact and collaborating with thinkers like Franz Boas, Karl Polanyi, and members of the Frankfurt School at the Institute for Social Research.
When finally his dissertation, "STUDIES IN LAND AND CREDIT IN ANCIENT ATHENS, 500-200 B. C.: THE HOROS-INSCRIPTIONS," landed him a faculty position at Rutgers University, he was forced out due to his left-wing political affiliations. He appeared before the McCarran Committee (United States Senate Subcommittee on Internal Security) in 1952 and pleaded the Fifth Amendment when asked about his affiliation with the Communist Party.
Finley took a position in Classics at Cambridge University and eventually became a citizen of the United Kingdom. As a scholar, Finley brought his own contemporary concerns and interests to questions about the ancient world.  His research on ancient slavery and economy, and democracy and culture, resonate with the intellectual and social struggles of the mid-20th century.
Professor Daniel Tompkins is researching the life of Moses Finley. I spoke to him on December 15, 2015 in my office.
Audio Embed Code: