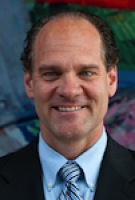 [ensemblevideo contentid=biPPv7klKkWeqXApx1FznQ audio=true showcaptions=true displayAnnotations=true displayattachments=true audioPreviewImage=true]
Jon Pahl is the Peter Paul and Elizabeth Hagan Professor in the History of Christianity at the Lutheran Theological Seminary and an adjunct professor in the Department of Religion at Temple University. He stopped by my office on May 22, 2013 to discuss his 2009 book, Empire of Sacrifice: The Religious Origins of American Violence, from New York University Press. Throughout his career Jon Pahl has been interested in the intersection of religion, violence, and peacemaking. In this work, he describes the religiously-oriented sacrificial logic behind much of the violence in America. He uses case studies on youth, race, gender, and capital punishment to show how violent sacrifice is made normative in our culture. One of the hallmarks of Jon Pahl's pedagogy and this book is his use of film to illustrate important themes. On finishing Empire of Sacrifice, I realized that I need to pay far more attention to the role that film plays in shaping our culture.
In a future book, provisionally entitled The Coming Religious Peace, Jon Pahl will analyze the role that religions play in peacemaking. I look forward to inviting him back to discuss this new work.
Audio Embed Code