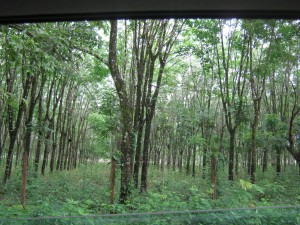 After two and a half weeks in Chiapas, we are wrapping up our first field season! Though I've been unable to post for the last week due to inconsistent/intermittent internet access, we've been quite busy with our interviews and landscape surveys.
Some new surprises in the landscape have included large tree plantations of not only recently planted oil palm, but also well established teak trees (teca) and rubber plants (hulay).
Our interviews have been insightful, providing us with some interesting perspectives on the evident diversification of land uses in a region best known for its cattle.