In 2020, ten graduate planning students collaborated on two studio projects. Despite the move to remote instruction for the second half of the semester due to the COVID-19 pandemic, both project teams produced important planning products for their clients.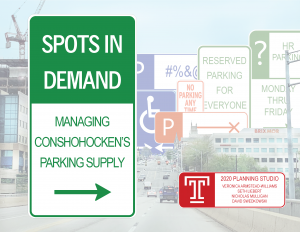 The first studio team researched parking issues in the Borough of Conshohocken, an historic town center along the Schuylkill river in nearby Montgomery County. Building upon a prior study by Pennoni Engineering, and in consultation with the Borough's Parking Task Force, the project team has inventoried every parking spot in the Borough, conducted an extensive analysis of parking usage, and surveyed local residents, employees, and business owners. The most significant finding: Conshohocken has an adequate supply of parking. A spatial analysis of on-street usage by
block indicates that, while no more than two-thirds (66.9%) of Conshohocken's total parking inventory is ever utilized under normal circumstances, demand and usage is heavily concentrated in specific sectors of the Borough, and at particular times. Conshohocken needs a comprehensive plan for parking management. Spots in Demand presents the team's inventory and usage findings and makes specific recommendations about best practices.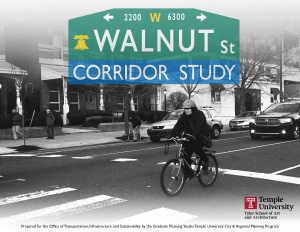 The Walnut Street Corridor Study was prepared for the City of Philadelphia Office of Transportation Infrastructure, and Sustainability
(oTIS) to highlight traffic safety concerns along Walnut Street from 22nd Street to Cobbs Creek Parkway. The report focuses on proposed design interventions that will help to improve the safety of all users of the Corridor – pedestrians, bicyclists, and drivers alike. The goal of the report is to help inform the City's Complete Streets initiative as the Streets Department prepares for the 2021 Pennsylvania Department of Transportation paving season. The report makes specific recommendations for improvements throughout the corridor, as well as detail designs for key intersections.
Links to the Walnut Street report will be made available soon.