CORAL REEF BIOLOGY IN TROPICAL BELIZE (and Philadelphia)
Biology 3316 / 5416 (4 s.h. credit) – Fall 2023   Mon/Wed/Fri  11:00 – 11:50 am.
Students register for Biology 3316 as a Fall course. There will be three meetings weekly during the fall semester.  the field trip to Belize is scheduled for EARLY January  2024 during the break between Fall and Spring semesters
The field portion of the course operates out of Belize Trek (link) on Ambergris Caye, Belize, Central America
The purpose of this course is to provide first-hand experience of this amazing biological habitat  through lectures at Temple University's main campus in Philadelphia and an 8-day field trip to part of the largest, relatively unspoiled, coral reef complex in the western hemisphere: the Great Barrier Reef of Belize.  The focus of the course is the organization, ecology and biological diversity of reef systems.  Topics will include reef formation, energy flow within the reef, predator-prey interactions, symbiotic relationships, and coral bleaching and disease. Coral biology will be emphasized, but other invertebrates, plants and fishes, including those of nearby mangrove ecosystems will be studied. Students will learn about the impact of both human and natural disturbances that endanger reef habitats. Coral reefs represent a major source of biological diversity, provide storm protection for tropical islands, have the potential for extraction of large numbers of biologically active molecules for medical use, yet are under serious threat worldwide. Loss of the biological resources and the incredible beauty of coral reefs would be a major ecological, economic, and aesthetic disaster.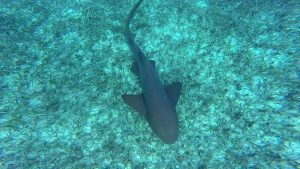 Registration: Interested students should contact Dr. Sanders via e-mail to ensure that space is reserved and to get access to application forms.  You will need special authorization to register for the course, and will need to fill out an application and work with Temple's Global Health, Safety, and Security .  Lectures during the Fall semester in Philadelphia will likely be on Mondays, Wednesdays and Fridays from 11:00 – 11:50 am.
Although the course is a fall semester offering, the field experience occurs in January before the start of the spring semester. For 2023-2024 the probable travel dates will be around: January 2 through January 9 – excursion to Belize.

---
Prerequisites for Biology 3316: Permission of instructor, Junior or Senior standing and at least one year of introductory laboratory biology. Special exceptions possible with instructor's permission.  Biology 5416 is for students with graduate standing. Additional work appropriate to a graduate level course is required for students enrolled in Biology 5416. Note that students not majoring in biology may need to do additional background reading.
Tuition: Tuition is part of the normal course load (up to the 17 hr maximum) for full-time Temple University students registering for the fall semester.  Non-Temple students must pay the tuition for a 4 credit course at Temple.  Class fees, snorkeling gear, books, and some travel costs (see below) are in addition to tuition.
Class fees:  The class fee is under review, but will be approximately $1,800, and will be charged on your tuition bill. The class fee covers room and board at Belize TREC (see Travel Information), air fare between the Belize City International Airport and Ambergris Caye, daily use of boats, ground transportation on Ambergris Caye, and most likely, a day trip up a mangrove-lined river to a Mayan ruin on the Belize mainland. The class fee does NOT include the round-trip airfare between the U.S. to Belize or the  (see below).
Note that the last day to drop a fall course will be early September 2023.  Students are responsible for full payment of tuition and fees if the class is dropped after this date.
Travel Costs: The future cost of round trip airfare from Philadelphia to Belize obviously can change.  For our trip in January 2023, airline tickets had increased from the past, and even at a discounted group rate, round-trip tickets were approximately $1170 per person. For the trip in January 2020 r-t tickets were only $650 – just can't predict the airlines. Airline reservations are made in October for our trip and must be purchased together through the course coordinator – a Temple University requirement.
Snorkeling gear: Mask, snorkel, and fins must be purchased prior to departure for Belize.  Although not absolutely necessary, a full or "shortie" 2-mm to 3-mm wet suit will allow you to snorkel comfortably for a longer time. Recently several students have chosen full wetsuits. There are numerous dive shops in the Philadelphia area, and gear can be purchased on-line or from catalogs. Gear requirements will be discussed in a class meeting early in the semester.

---
Accommodations during the field portion of the course are on Ambergris Caye, Belize, Central America.  Ambergris Caye is on the Atlantic coast near Belize's border with Mexico.  We will stay at "Neptune" on the grounds of Marine Tropical Research and Education Center (Marine TREC).  This organization is devoted to the study and preservation of Belize's tropical ecosystems. The Marine TREC station has easy access to reef areas, but is also close the resources of the town of San Pedro where there are stores, restaurants, medical clinics with doctors, etc. Most rooms are double or triple occupancy with an individual bath. There is an on-site kitchen and a freshwater swimming pool.  Contact Dr. Sanders early if you have ANY dietary restrictions.
Teaching facilities include a two classrooms and a small research library at Neptune. A 48-foot research vessel and several other boats are available at the nearby beach and dock.  The boats are used on most days for transport to different reef locations and habitats.
Class participants will NOT be allowed to SCUBA dive. Snorkeling is a big part of the course since most of our time in Belize is spent investigating organisms that live underwater.  However, even beginning swimmers can take this course and participate in snorkeling activities using floats.
---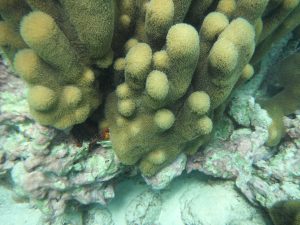 Additional Travel Information: A passport is required to enter Belize, but a visa is not needed for U.S. citizens.  Students with non-U.S. passports may need a visa. It is the student's responsibility to obtain a visa if necessary. Your passport must be valid for at least 6 months after you leave Belize; if it is scheduled to expire before August 2024, you should renew it before you go.  The Center for Disease Control recommends that travelers to Belize get immunized for Hepatitis A and B, have a current tetanus booster. Some travelers to Belize take preventative malaria medication, but infection is uncommon in the part of the country we visit (chloroquine is less expensive and has fewer side effects than mefloquine, but check with your physician). Again, Ambergris Caye is not currently an area associated with a high degree of malaria. There is a 20 minute flight in a small airplane required to get from the mainland to Ambergris Caye (and back).  Do not sign up for the course if you can't fly in a small (<20 passenger) airplane.  
---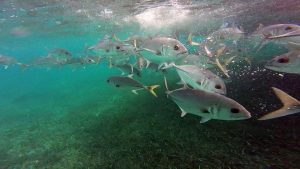 Faculty: Click Dr. Sanders' name to link to his faculty web page. Dr. Robert W. Sanders. Field of research: Marine and Freshwater Ecology involving nutrient transfer and food web organization; microbial ecology; symbiosis. Dr. Sanders has coral reef experience in the Caribbean, Central America and the Galapagos.
All photographs on this page were taken in Belize by R. Sanders or students in the class.