The Kennedys may be America's royal family, but the woman who lies behind myth is Jacqueline Kennedy.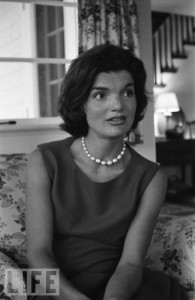 Jackie was born to John Vernou Bouvier III and Janet Norton Lee in July of 1929. She grew in a quite wealthy family due to her father's career as a stockbroker. She spent a good amount of her childhood in Manhattan and the Hamptons on Long Island at her family's estate. She later attended Vassar College for two years and spent her junior year in France. Upon coming back to the states, she transferred to George Washington University where she got a Bachelor's degree in the Arts in French literature. She met her future husband, John Fritzgard Kennedy in May of 1952 at a dinner party.
Jackie was what peanut butter is to jelly to John. These two were the young wealthy family that were starting their married lives in the eye of the political public. But is she the Queen of Camelot? I think that the idea of her queen-like demeanor comes from her poise and elegance. In for "One Brief Shining Moment: Choosing to Remember Camelot," written by Linda Czuba Brigance, Brigance describes how a Chicago Sun Times article stated that Jackie Onassis was "the closest thing we have to American royalty" (Brigance 6). This speaks to how Americans view royalty. As a young person born way after the Kennedy era in the sixties, I am still shock in how we as people still find Jackie O. to be so amazing. However, as much as I want to be against it, I just can not.
For me she embodies everything that a first lady should be. She was smart, thoughtful, and has a caring glow that surrounded her. On top of that all, she dressed to the nines. The Chanel suit will forever be the "Jackie O" suit. I also think that is why our current first lady sticks out in my mind as well. Michelle Obama is a well educated lady who had the need to "do something" during her time severing as our first lady; just like Jackie O.
ALL HAIL QUEEN JACKIE!!
Britannica Academic, s. v. "Jacqueline Kennedy Onassis," accessed March 31, 2016, http://academic.eb.com/EBchecked/topic/428919/Jacqueline-Kennedy-Onassis.
Brigance, Linda Czuba. 2003. "For One Brief Shining Moment: Choosing to Remember Camelot". Studies in Popular Culture 25 (3). Popular Culture Association in the South: 1–12. http://www.jstor.org/stable/23414940.