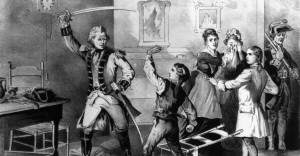 The idea of the self-made man has become a major part in American culture. It is the idea that a person who is, let's say, a "nobody" can turn him or herself into a "somebody." It is a recurring idea that inspires many people today. There have been many American icons that are self-made men, and one of them was Andrew Jackson.
Andrew Jackson was the 7th president of the United States. He was born into poverty into the South, and as a result he had little formal type of schooling. Jackson took it upon himself to start reading law and worked his way into becoming a prosecuting attorney in what is now known as Nashville, Tennessee. Soon after, he was elected to the U.S. House of Representatives, the U.S. Senate, and served as the judge of Tennessee's supreme court before becoming head of the state militia during the War of 1812. His success in the Battle of New Orleans portrayed him as a national war hero. He was elected President in 1828 and after two terms was succeeded by Martin Van Buren in 1836.
Pretty successful story for a guy whose family had nothing too substantial to provide him, wouldn't you say? Andrew Jackson definitely fits the image of the self-made man, on the basis of going from having nothing to becoming President of the United States. However, his given history alone isn't the only contribution to his self-made man status. A very important factor in this is the image that he left behind.
The main contribution to Andrew Jackson's image of being a self-made man was his stories that he had left behind during his life. Andrew Jackson was an interesting man, in the sense that he was a part of some very unique experiences. One experience was that during the Revolutionary War, he was taken prisoner by British soldiers and was struck in the face with a saber when he refused to shine an officer's boots. This experience is comparable to Benjamin Franklin and when he was his brother's apprentice. In David Waldstreicher's Runaway America: Benjamin Franklin, Slavery, and the American Revolution, he talks about Benjamin Franklin and describes him as, "a seventeen-year-old apprentice printer and the servant of a master in serious trouble" and that "Franklin remembered James's 'harsh and tyrannical treatment' " (Waldstreicher 3). Both Franklin and Jackson were both at the hands of a much higher authority, but by standing up for themselves Jackson and Franklin, gave the impression that they were not going to give up so easily. Perseverance is a true characteristic of a self-made man. Jackson has other stories of climatic triumph, such as when a man failed an assassination attempt against him he proceeded to beat him with his walking stick.
Andrew Jackson is a prominent figure in American culture. At this point in time, he has definitely reached the status of being an icon. Along with his history of success, it is his image and stories of his life that are a large, contributing factor in him becoming a self-made man.
Bibliography
"Andrew Jackson." History.com. A&E Television Networks. Web. 26 Jan. 2016.
Waldstreicher, David. "Chapter 1: Runaways and Self-Made Men." Runaway America:
Benjamin Franklin, Slavery, and the American Revolution. New York: Hill and Wang, 2004. Print.