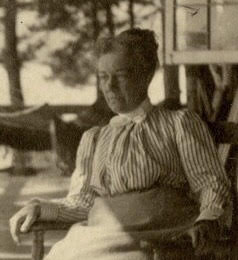 Frances Coolidge Stone (1851-1931) was born in Newburyport, Massachusetts on July 28,1851 to Eben and Harriet Stone.[1] "Fanny" was a dear friend of Alice Longfellow, and many of her letters, especially from the 1880s, have been preserved at the Longfellow House Washington's Headquarters National Historic Site in Cambridge, Massachusetts. Fanny Stone lived most of her life in Newburyport, but during the 1880s she followed her father, then a U.S. congressman, to Washington, D.C.
Our class is transcribing digital copies of Stone's letters to Longfellow. So far they reveal her as a woman deeply engaged in American politics and deeply enamored with Alice Longfellow.  We'll report here as we learn more. We plan to share our transcriptions of nearly 70 letters with the National Park Service when we're done.
[1] "Massachusetts, Births and Christenings, 1639-1915," index, FamilySearch (https://familysearch.org/pal:/MM9.1.1/VQXB-FJ1 : accessed 23 Oct 2014), Fanny Coolidge Stone, 28 Jul 1851; citing Newburyport, Essex, Massachusetts, ; FHL microfilm 761362.