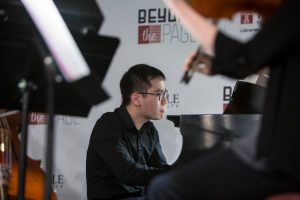 Nam Nguyen, pianist and scholar
Wednesday, February 10, Noon, EST
Temple University Libraries' Beyond the Notes is pleased and proud to present a performance and discussion of Vietnamese piano music of the Twentieth Century by doctoral student Nam Nguyen.
Western art music is relatively new in Vietnam, with a colonial history that started in the late nineteenth century.  Early European music exposure in Vietnam was part of French mission civilisatrice and was later taken over by the Vietnamese with the establishment of the first Vietnamese conservatory (now known as the Vietnam Academy of Music) in 1956.  The development and progress of classical music, however, was hindered by the Vietnam war and facility limitations throughout most of Vietnam's modern history.  Despite the obstacles, Vietnamese musicians managed to keep the school operating and to train generations of musicians.  Vietnamese composers also managed to produce a substantial amount of repertoire in various genres: orchestra, chamber, solo instrument, songs, and more.  Within the relatively small solo instrumental output, piano music occupies a major part.  These works, however, remain unknown even in Vietnam, due to lack of performance and information.  In the lecture, I will offer an overview of the development and dissemination of European classical music in Vietnam as context for the second part, which focuses on compositions for piano.  Although the piano has foreign origins, Vietnamese composers managed to integrate folk elements into their compositions for the instrument.  Not only did it allow the younger generation to assimilate music from the west, it also fostered their understanding of national identity.  At first, many Vietnamese piano works were intended for pedagogical purposes.  As Vietnamese musicians received better training and education, they composed more complex and original works, intended for a concert setting.  Although only a very small number of works are performed today, Vietnamese piano music, as the combination of western musical training and Vietnamese creativity, constitutes a meaningful artistic genre.
Nam Nguyen is currently a doctoral student in Piano Performance at Boyer College of Music and Dance. His principal teachers have included Ha Thu Tran, Harvey Wedeen, and Ching-Yun Hu; he also studied collaborative piano with Lambert Orkis and early keyboard instruments with Joyce Lindorff. Besides playing traditional solo piano repertoire, Nguyen is actively involved in the performance of contemporary music as well as participating in different ensembles of various sizes.
Nam started his piano training at the age of six and attended Vietnam Academy of Music before coming to Temple. While he spent his early years learning piano in Vietnam, he did not have much experience to the classical music by Vietnamese composers and did not know many works in the repertoire. Exposure to the development of Classical Music in America, which brought forth some of the most original composers such as Charles Ives, George Gershwin, sparked his interest in his own culture, and he decided to research the topic of Vietnamese piano music for his dissertation.
This program will be presented via Zoom. On the day of the program, use this link to join: https://temple.zoom.us/j/99575828248.
All programs are free and open to all, and registration is encouraged.