Beyond the Notes
A Celebration of Stride and Novelty Piano
Wednesday, February 12th, 12:00PM -12:50PM
Featuring Dr. Charles Abramovic and his studio
Light refreshments served. Boyer recital credit given.
____________________________________________________________________________________________________________________________________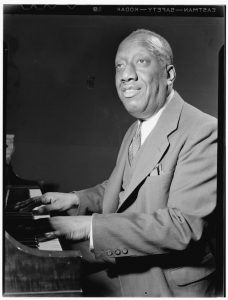 As one of myriad styles falling under the rubric of jazz, stride is fundamentally an expression of the African American experience. James P. Johnson (1894-1955) pioneered the solo piano style while composing and performing in Harlem during the 1920s. What follows is a brief sketch of the conventions, innovations, and social contexts that produced it.
Stride derives primarily from ragtime in form and content. Tunes comprise three or four independent, sixteen-bar sections or strains. The initial strain features the theme in the tonic; subsequent strains variously treat the original material or present new ideas. Sections collectively called the "trio" modulate to closely related keys, typically the subdominant. Introductions and interludes of four or eight measures are common. Regarding content, left-hand stride patterns follow traditional dances in duple meter, notably the march and polka. Hence the bass often alternates between low notes and midrange chords; the former imitates the tuba while the latter mimics the higher brass and woodwind instruments of marching bands, creating the oom-pah sound associated with folk music.
However, stride represents an evolutionary step in the lineage of jazz, placing greater demands on the performer. The harmonic rhythm and tempo are faster than those of ragtime. Stride also exploits the full range of the instrument. Finally, the style employs an array of pianistic devices, e.g., rapid scale passages, trills, and turns, suggesting that knowledge of classical idioms would be beneficial if not requisite to stride proficiency.
Johnson infused blue notes and call-and-response gestures into stride. Furthermore, the rhythmic feel of his style was more relaxed than ragtime, approximating swing. Heard in the paradigmatic stride piece "Carolina Shout," these elements allowed Johnson to connect meaningfully with his auditors at clubs and dance halls, many of whom migrated from the Deep South:
"The dances they did at the Jungles Casino were wild and comical—the more pose and the more breaks the better. These Charleston people and the other southerners had just come to New York. They were country people and they felt homesick. When they got tired of two-steps and schottisches (which they danced with a lot of spieling), they'd yell: "Let's go back home!" . . . or "Now put us in the alley!" I did my "Mule Walk" or "Gut Stomp" for these country dances. Breakdown music was the best for such sets, the more solid and groovy the better. They'd dance, hollering and screaming until they were cooked. The dances ran from fifteen to thirty minutes, but they kept up all night until their shoes wore out—most of them after a heavy's day's work on the docks."
Johnson also cultivated the style while performing at rent parties in Harlem. Held in apartments, these informal gatherings enabled working-class tenants to raise additional money for rent by charging admission. Here we see the music of Johnson providing a modicum of relief in material as well as nonmaterial ways.
We invite you to join us on Wednesday, February 12, to hear stride performances by the studio of Charles Abramovic. In addition to works by Johnson, the program will feature those of his contemporaries, Thomas "Fats" Waller, Jelly Roll Morton, and Zez Confrey.
Consult the following sources for more information:
Barnhart, Bruce. "Carolina Shout: James P. Johnson and the Performance of Temporality." Callaloo 33, no. 3 (Summer 2010): 841-856.
Berlin, Edward A. "Ragtime." Grove Music Online. 16 Oct. 2013; Accessed 26 Jan. 2020. https://www-oxfordmusiconline-com.libproxy.temple.edu/grovemusic/view/10.1093/gmo/9781561592630.001.0001/omo-9781561592630-e-1002252241.
Martin, Henry. "Balancing Composition and Improvisation in James P. Johnson's 'Carolina Shout.'" Journal of Music Theory 49, no. 2 (Fall 2005): 277-299.
Robinson, J. Bradford. "Stride." Grove Music Online. 2001; Accessed 20 Jan. 2020. https://www-oxfordmusiconline-com.libproxy.temple.edu/grovemusic/view/10.1093/gmo/9781561592630.001.0001/omo-9781561592630-e-0000026955.
Rouder, Willa. "Johnson, James P(rice)." Grove Music Online. 2001; Accessed 24 Jan. 2020. https://www-oxfordmusiconline-com.libproxy.temple.edu/grovemusic/view/10.1093/gmo/9781561592630.001.0001/omo-9781561592630-e-0000014409.
Gary Sampsell is a second-year PhD student in the Music Studies program at Boyer College. His research interests include the musical culture of baroque-era Saxony and Austro-German reception of early music in the nineteenth century.