Beyond the Notes : Temple Library's Noontime Concert Series
Wednesday, March 8th

12:00pm

Paley Library Lecture Hall
Boyer recital credit given. Light refreshments served.
On Wednesday, March 15, Paley Library's Beyond the Notes concert series will present a preview of The Beggar's Opera. This work (1728) is the comic masterpiece of John Gay (1685-1732), an English poet and playwright with a flair for the farcical, and Johann Christoph Pepusch (1667-1752), a German-born composer who arranged familiar tunes of the day for the songs.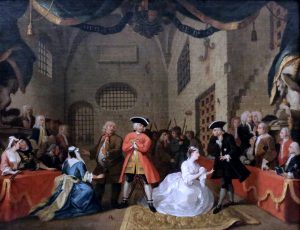 The Beggar's Opera functions as a satire on multiple levels. Musically and dramatically speaking, it pokes fun at the stilted conventions of Italian opera seria. This genre, which was in vogue in English theaters of the time, had in George Frideric Handel (1685-1759) a great exponent and a dominating musical influence. Despite England's own native musical traditions, the German-born Handel's continental style almost overwhelmed his adopted country. Opera seria, as a rule, was based on classical mythology or grand historical subjects. For this work, Gay created a tale set in his own time, populated by figures such as the womanizing highwayman Macheath and other social outcasts. As a ballad opera, a theatrical style based on brief songs interspersed with spoken dialogue, this work sidesteps both conventional recitative – speech-like singing accompanied only by harpsichord, meant to move dramatic action forward – and the virtuosic arias designed around creating opportunities for singers to display their technical skill that comprise so much of opera seria. In its place were tunes known to the public – hymns, street ballads, even tunes by famous composers.
Politically, the work takes aim at the career of Robert Walpole (1676-1745), considered the first Prime Minister of Great Britain. More than a little personal envy may be at play here. At the time, the South Sea Company had a reputation as a smart investment.  But the bubble burst and Gay lost everything, whereas Walpole made a massive profit by selling shares he owned.  An ensuing investigation into the company lead to his becoming First Lord of the Treasury in 1721, beginning his rise to power. In any case, the work made a notable impression on the public and the literati, with none missing the fact that it makes people in financial trades the target of its invective.
The Beggar's Opera made its mark, and in the twentieth century numerous musicians and people of the theater tried their hands at reworking it. The most famous of these is surely The Threepenny Opera (1928) by playwright Bertolt Brecht (1898-1956) and composer Kurt Weill (1900-1950), featuring the famous song "Mack the Knife." Others who have made their own adaptations include composer Benjamin Britten (1913-1976) in 1948, conductor Richard Bonynge (b. 1930) and composer Douglas Gamley (1924-1998) in 1981, and playwright Stephen Jeffreys (b. 1950) as recently as 2008. There is surely something in the work that speaks to so many people across time and throughout the world that is still fascinates after hundreds of years. We at the library hope you will enjoy this performance with us!
Beyond the Notes is supported by the Boyer College, Temple University Libraries, and the Presidential Humanities and Arts Research fund.
Read more!
The Beggar's Opera available online through the Library!
The beggar's opera to which is prefixed the musick to each song / John Gay. [Hamburg, Germany] : Tredition, [2012?]  Paley Stacks ML50.7 .B43 2012
Works of John Gay at Project Gutenberg
Poems of John Gay, edited by John Underhill. London, New York, George Routledge & Sons, E.P. Dutton & Co., [n.d.]  Paley Stacks PR3473.A1 U5
Bevis, Richard W. English drama : restoration and the eighteenth century, 1660-1789. London ; New York : Longman, 1988.  Paley Stacks PR691.B48 1988
Ed. Catie Gill: Theatre and culture in early modern England, 1650-1737 : from Leviathan to Licensing Act. Farnham, England ; Burlington, VT : Ashgate, 2010.  Paley Stacks  PR698.S46 T47 2010
Gollapudi, Aparna. Moral reform in comedy and culture, 1696-1747 [electronic resource]. Farnham, Surrey ; Burlington, VT : Ashgate, 2011.  Web Access  PR708.C6 G65 2011eb
Robert Pegg is a PhD candidate in Music Composition. He is a student of Dr. Maurice Wright.