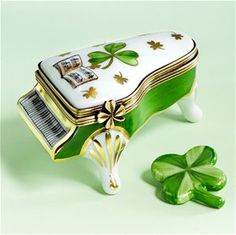 On Wednesday, March 16, Paley Library will present music from and inspired by Ireland at its noon concert series, presented by students and faculty of the Boyer College of Music and Dance. This concert is the brainchild of Dr. Charles Abramovic, professor and chair of the keyboard department of the Boyer College. After receiving degrees from the Curtis Institute of Music in Philadelphia and Peabody Conservatory in Baltimore, he returned to Philadelphia and received the degree of Doctor of Musical Arts from Temple University, where he has taught since 1988. He has performed as both soloist and collaborative artist across North America and Europe.  Joining Dr. Abramovic to perform Beethoven's settings of Irish folk songs will be Marcus DeLoach, Boyer professor of voice and opera. Professor DeLoach has extensive international performing experience, and degrees from Juilliard (B.M. and M.M.) and his D.M.A. from Rice University.  We are proud and happy to announce that Jeffrey Solow, Boyer professor of cello and internationally renowned performer. Solow received his degrees from UCLA where he studied with and became the assistant to the legendary Gregor Piatigorsky.  Students from Dr. Abramovic's studio and participants from the Theater Department will complete the festivities.
Charles Abramovic, Jeffrey Solow, and Marcus DeLoach.  It doesn't get better than this!
In addition to readings from Irish poetry and literature, the audience will be treated to settings of Irish folk songs by Beethoven, the "Irlandais" from the Suite for Flute and Jazz Piano Trio by French jazz pianist and composer Claude Bolling, and Nocturnes of Irish composer John Field. Field (1782-1837) achieved early popularity in his native Dublin before moving to London, and later making great impressions in Paris, Vienna, and finally St. Petersburg and Moscow, where he found employment from the court as performer and teacher. The works on which his fame rests today, his Nocturnes, first appeared in print in 1814. This new type of piece was meant to be a lyrical, relatively brief (though not necessarily lightweight in content and conception) evocation of the night. This genre was brought to its greatest heights by Frédéric Chopin (1810-1849), but these achievements could not have been made without the pioneering of his predecessor (Harold C. Schonberg, The Great Pianists).
Fans of the written word, music, or simply the culture of Ireland will find something to intrigue them in this event. All are welcome to enjoy the offerings!
Learn more:
Musicologist Robin Langley on Field manuscripts
Harold C. Schonberg, The Great Pianists. 1987, Simon & Schuster, Inc. (available in Paley Library)
Writer Basil Walsh on famous Irish musicians in the 19th century (check his bibliographies too!)
Robert Pegg is a Ph. D. candidate in music composition. His adviser is Dr. Maurice Wright.