Beyond the Notes: Temple Library's Award-Winning Noontime Concert Series
Presents a free screening of
Domestic Tranquility
Visual Music by
Maurice Wright
Wednesday, September 23, 2015
Noon to 1:00 P.M.
Paley Library Lecture Hall
Dr. Maurice Wright, the Laura H. Carnell Professor of Music Composition at the Boyer College of Music and Dance, created the animation and music which make up Domestic Tranquility. The film's visual elements were built using POV-Ray, a free, open-source ray tracing software. But don't let me impress you too much with the details; Wright's work offers a commentary on politics and the mass media that is as accessible as it is thought-provoking.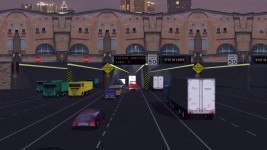 The concept for Domestic Tranquility can be traced back years before the project became a reality. According to Wright, the premise of this and other works was to implement a "visual dimension to an electronic music concert." In creating the film, he sought to "fit the image to the music," a diametrical opposition to the standard practice in contemporary film production. As a result, the music is the dramatic focal point, evoking moods and invoking gestures in the absence of dialogue.
Throughout Domestic Tranquility, Wright incorporates live action visual elements into a primarily animated world. While this ultimately familiar atmosphere highlights the inescapable presence of the mass media in our daily lives, the mundane subsequently becomes questionable, almost obnoxious. How does Wright achieve such a penetrating commentary? As you watch the film, listen for ordinary, real-world sounds — a lawnmower, a bird, the white noise of a television set — and think about how they are embraced or suppressed by Wright's music. You may begin to relate to the film's reclusive protagonist, a man whose awareness is betrayed by his only link to the outside world: television.
Andrew Unger is the graduate assistant for the Noontime Concert Series at Temple University. He is a candidate for the MM in Music History at the Boyer College of Music, and appears as a horn player with the Temple University Symphony Orchestra and Wind Symphony. Reach out to him at andrewungerhorn@gmail.com.
Learn More:
Dr. Wright's Philadelphia Orchestra commission: https://www.philorch.org/press-room/news/yannick-n%C3%A9zet-s%C3%A9guin-and-philadelphia-orchestra-announce-2015-2016-season#/
Wissahickon Scenes Interview with David Patrick Stearns: http://wrti.org/post/composer-maurice-wright#stream/0
Octet with the Philadlephia Chamber Music Society: http://articles.philly.com/2014-11-19/entertainment/56313182_1_alan-abel-percussion-drum
Listen to Dr. Wright's Music:
includes Suite for Piano, Chamber Symphony, Night Watch, Sonata II
Live recording of Galatea_Reset
"Music for Trombones:" http://www.youtube.com/watch?v=xC0v_UMXdSg
"Darwiniana," a Network for New Music Commission: http://www.youtube.com/watch?v=ni2jSvAUgAU
Short film, "Light-Color Play:" http://vimeo.com/18440331
Temple University's Presidential Humanities and Arts Research Funding Program helps support Beyond the Notes.