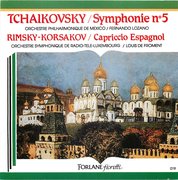 From Margaret Loebe at Alexander Street Press:
The free featured download from Classical Music Library is Pyotr Il'yich Tchaikovsky's "Symphony No. 5, Op. 64." Pyotr Il'yich Tchaikovsky (1840–1893) was a Russian composer. He wrote his fifth symphony at the same time as "Manfred" and the opera The Queen of Spades. The three works share similar themes.
This recording is performed by the Orquesta Filarmónica De La Ciudad de México.
*Find related recordings in Classical Music Library (authorized users only)
All tracks downloaded through this promotion are owned by 
Alexander Street Press
and are available to legally download, free of cost to the user.
*************Temple University authentication required.*************