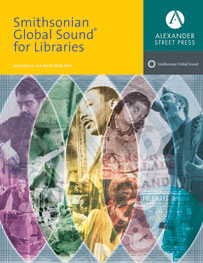 World Music Download from Alexander Street and Smithsonian Folkways Recordings
"Tarona 1" by Academy of Maqam from the album Music of Central Asia Vol. 2: Invisible Face of the Beloved: Classical Music of the Tajiks and Uzbeks (SFW40521)   
Our featured download from Smithsonian Folkways Recordings is "Tarona 1," performed by Academy of Maqam.
Amid the mosques and minarets of Samarkand and Bukhara, generations of vocalists set the mystical, Sufi-inspired verse of Hafiz and other classical poets to lyrical melodies, creating a spiritual art music of great refinement and sublime beauty called Shashmaqâm, confirming its important place among the great art music traditions of Eurasia.
For more information, and to download this track, click here.
This track is owned by Smithsonian Folkways Recordings and is available, free of charge, for a limited time only. Be sure to join our mailing list for regular email updates every time a new track becomes available.
Alexander Street also offers free classical music downloads, sponsors the Music Media Monthly blog full of reviews and recommendations, and provides news and other free giveaways on the Music Online blog,Facebook, and Twitter.