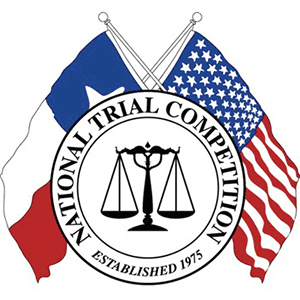 The National Trial Competition is one of the oldest and most prestigious law school mock trial competitions in the United States. It begins with 15 regional tournaments in which all law schools are eligible to participate. The two top teams in each region compete for the national championship in Texas.
Region III's competition will be held February 7-10, 2019 at the Criminal Justice Center, 12th & Filbert Sts., Philadelphia, PA. Approximately 22 teams from 11 law schools throughout Pennsylvania and New Jersey will compete for the right to go to Texas and participate in the national championship rounds in March.
The Region III competition has been held at the Criminal Justice Center since 1996. In the semi-final and final rounds, presiding judges come from benches of the US Court for Eastern District of PA and of the Court of Common Pleas of the First Judicial District; scoring judges are primarily members of the American College of Trial Lawyers. Presiding and scoring judges in preliminary rounds are from the regional federal and state bars. Lawyers who serve as witnesses and judges are eligible to receive CLE credits. 
Championship bowls are awarded to the winners and finalists. The "best advocates" in the final round are awarded the Edward D. Ohlbaum plaque to honor the memory of Professor Ohlbaum, a stalwart in litigation education, mentor to countless trial lawyers in the state, and supporter of trial advocacy training for law students as a means of teaching them to be ethical and fair practicing lawyers.
The 2019 National Regional Trial Competition will be held at the Criminal Justice Center in Philadelphia from February 7th to February 10th. For more information regarding the competition, please click on one of the tabs above that correlates to your participation in this competition. If you have further questions, you can contact Mary Beth Wilson at mary.beth.wilson@temple.edu.