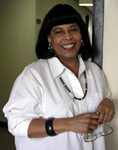 [ensemblevideo contentid=Nv818LgKykiHOSZHzTop2g audio=true showcaptions=true displayAnnotations=true displayattachments=true audioPreviewImage=true]
As Bettye Collier-Thomas explains, there were female African American preachers in the nineteenth century who could pack a church or revival meeting with their inspirational Gospel sermons. At the same time, they were excluded from leadership positions. Bishops, pastors, and other leaders of African American churches and denominations recognized that women preachers were good for business. After all, females frequently accounted for a supermajority of church membership and were the most active fund raisers and organizers. The work of these women preachers and church organizers left traces in the historical record, but given the twin barriers of race and gender their contributions often went unrecognized.
In Jesus, Jobs, and Justice: African American Women and Religion, Temple University professor Bettye Collier-Thomas rescues these women – and many of their sisters in the twentieth and twenty-first centuries – from history's slumber. Working within and outside their churches, cooperating across racial and gender lines, African American Women of faith have worked tirelessly for abolitionism, suffragism, anti-lynching legislation, civil rights, and women's rights.
Although there are many books about the historic sweep of the Black Church, Jesus, Jobs, and Justice – in the words of reviewer M. Shawn Copeland writing in the Women's Review of Books – "is the first [book] to comprehensively research and analyze the interplay of gender, race, and religion in the lives of African American women from the period of enslavement to the present…"
I spoke with Bettye Collier-Thomas on March 14, 2014.
Audio Embed Code