Welcome to Temple University's Earth and Environmental Science GeoPath page! This site provides resources for students interested in pursing a career in Urban Geoscience, developed as part of our NSF-funded GeoPath program.  To find out more about our department, check the department web page link above.  To explore our resources for career development, visit the tabs.
Check out our new video on what is is like to be an urban geoscientist.
Explore the site and the major to learn more!
FALL EVENTS: (dates will be posted shortly)
Grad school application workshop
Resume workshop
Introduction to undergraduate research
Sign up for mentoring or become a mentor: see the math mentor tab
SPRING EVENTS:
HAZWOPER course, sign up for ENVS 3027
Career Night
Resume review for graduating seniors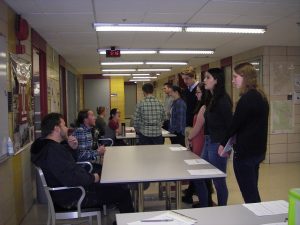 Career night: alumni give tips on skills employers look for, job hunting, and job interviews
Header photos:  (1)students measuring electrical resistivity of urban soils outside the new science building,(2)  downloading rain gauge data on campus, (3) using thermal photography to map springs (blue colors) in an urban stream, and (4) evaluating shoreline storm damage using geophysics.