Welcome to Temple University's Earth and Environmental Science GeoPath project page! This site will describe activities we are developing as part of our NSF-funded GeoPath program to enhance opportunities for majors in our department. We chose to emphasize an Urban Geoscience theme for our project because there are many new opportunities to explore geoscience in the urban setting and we want to help get the word out about these opportunities. Explore the site and the major to learn more!
FALL EVENTS:
Grad school application workshop: Sept 12 4:30 room 305 (run by SGE)
Resume workshop: date TBA
Introduction to undergraduate research: date TBA
Sign up for mentoring or become a mentor: see the math mentor tab
SPRING EVENTS:
In the spring we will hold a career night, another resume workshop, and take applications for the summer internship program.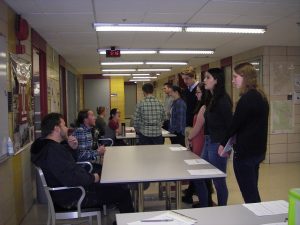 Career night was a success with 6 alumni giving their tips on skills employers look for, job hunting, and interviewing for a job.
Header photos:  (1)students measuring electrical resistivity of urban soils outside the new science building,(2)  downloading rain gauge data on campus, (3) using thermal photography to map springs (blue colors) in an urban stream, and (4) evaluating shoreline storm damage using geophysics.