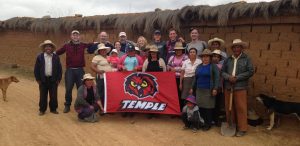 Temple Engineers Without Boarders is a student organization that currently has two projects, one international project and one local project.  Our international project is partnered with a small community in Saccha,Peru where we are aiding them in providing clean drinking water for their whole community.  Our local project works to help local schools by aiding in tutoring kids that are interested in STEM and anything engineering related.
For more questions about the organization or projects email:
templeuniversity@chapters-ewb-usa.org
You can also find out more information about Temple Engineers Without Borders at our Owl Connect website here.