[This post comes to us from Patrick Grossi, Project Manager for Funeral for a Home and a student in Temple's PhD Program in History. Click here to hear an excerpt from his interview with Lyell Funk about the meaning of "community" as it figures in public history practice.]
In Fall 2013 students at the Center for Public History participated in a unique neighborhood history/public art /community outreach project titled Funeral for A Home. Managed by Temple Contemporary, the exhibitions and public programming department at Tyler School of Art, Funeral for A Home commemorates the slow decline of Philadelphia's housing stock, and the lives those homes contain. This year in collaboration with local residents, Mantua Civic Association, Mount Vernon Manor, Inc., Mantua Community Improvement Committee, HUB Coalition, People's Emergency Center, artists and historians, Temple Contemporary will share the life and passing of a single home in Mantua, West Philadelphia. Over the course of the year all will contribute to a neighborhood history, one which places private reflection within a deeper historical context.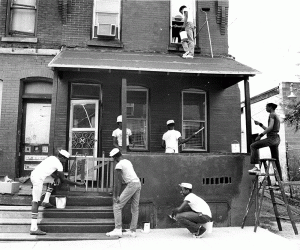 Students in Seth Bruggeman's Managing History graduate course conducted in depth interviews with nine of the project's principal participants, among them local artists Jacob Hellman and Billy and Steven Dufala, who originally conceived of and will be designing the memorial service, Robert Blackson, Director of Temple Contemporary, and various representatives of city agencies and participating community non-profits. Though originally intended to have students interview the Mantua residents and community stakeholders lending their voice to the project, time constraints and the difficulties of securing an appropriate home forced Temple Contemporary and Professor Bruggeman's students to reconsider their role. Rather than contribute to the historical narrative at the core of the project, the interviews instead offered an invaluable opportunity for internal assessment and sophisticated conceptual thinking. Students were able to tease out the most crucial, and controversial, aspects of the project, and forced Funeral for A Home's practitioners to think seriously about the work they are proposing and the multiple ways in which it may be perceived. Moreover, students were offered an intimate backstage look at the varying levels of work that go into multidisciplinary programming of this kind.
At bottom, Funeral for a Home involves the commemoration and demolition of a structurally compromised home. Every year nearly 600 homes are demolished in the City of Philadelphia. As in most large post-industrial cities, the trends of depopulation dating to the mid-twentieth century have hit Philadelphia especially hard, and Mantua was hardly immune. Though Mantua was never much of an industrial sector, maps extending back to the 1870s and even as recent as the 1960s reveal a solidly residential row home neighborhood. Explicitly or not, Funeral for A Home and projects like it brush against issues of deep significance to the post-industrial urban environment, namely a much needed corrective toward preservation justice, a model for historians to engage more directly with "emotional labor," and an opportunity to engage audiences across geography, race, and class. How to balance that often romanticized past with the harsher realities and positive redevelopment energy currently underway in Mantua is one of the core challenges to Funeral for A Home's successful and ethical completion. The questions posed and answers offered via each student's interview will do much service toward achieving that end.
 "Funeral for A Home" is made possible by a generous grant from the Pew Center for Arts and Heritage. For more information please visit http://tyler.temple.edu/funeral-home or contact Temple Contemporary via phone 215-777-9138 or email robert.blackson@temple.edu.