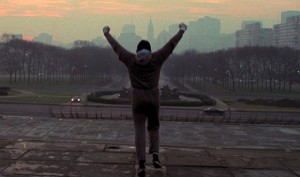 As a Philadelphian, one of my best kept secrets to date was that I had never seen the movie Rocky. This movie has become an icon not only to Philadelphia but also to the world, spurring hundreds of thousands of people to flock to the Philadelphia Museum of Art steps and run to the top or pose beside the hulking Rocky Balboa statue at the base of the steps. I always felt ashamed that I never watched the iconic film before, but I figured I didn't have to; growing up here, I was told the Rocky story dozens of times without ever actually having to see the movie itself. I knew about Apollo Creed, Adrian, Mickey, and Paulie, and I had performed the film's punchy, upbeat score in my elementary school orchestra. I was familiar with all the iconic lines ("Yo, Adrian!"), the major plot points, and the iconic still image of Rocky at the top of the PMA steps. But one thing I never understood is why the low-budget movie starring an unknown actor Rocky became such an important part of Philadelphia's culture. After all, it's certainly not the only film that takes place in Philadelphia (need I mention the film literally named Philadelphia?). So why did Rocky become thefilm set in Philly? Recently, I was forced to watch Rocky finally, after 22 years of somehow avoiding it, and I came to a better understanding of Philadelphia's connection to the film. This film represents the city and its people in a way that is realistic, not dolled up to conform to typical, fabulous Hollywood representations of big cities. Philadelphia is known for its grit and hardworking attitude, and that is exactly how the city and its people are represented in Rocky.
Philadelphia has a reputation among other cities as being a bit…rough. This is the city whose sports fans have a penchant for throwing things at people they don't like, including, but not limited to, the poor Santa Claus who was booed and pelted with snowballs at an Eagles game back in 1968—a story that despite having happened over 40 years ago has somehow remained a defining part of this city's lore. It's the city that (unsurprisingly) beheaded the adorable hitchhiking robot whose journey was supposed to represent human kindness and togetherness. Five years ago, Philly was named the 2nd Dirtiest City in the country, beating out Los Angeles, Memphis, and New York. (New York!! Have the people who made that decision ever even been to New York? It's disgusting!! And they expect us to believe that we're actually worse than that?!). We don't have a great reputation—and yet, we're completely unfazed by the way the world sees us. We're pretty content just doing our own thing. That's the Philadelphia represented inRocky.
The Rocky character himself represents Philadelphia perfectly. In this film, Rocky Balboa is a lovably ordinary character. He is a working class guy who lives in a tiny, unattractive apartment. He is apparently uneducated and boxes for a meager living—though he also works as a loan shark's muscle to make ends meet. He has two turtles and a fish, all of whom he greets as friends when he comes home in the evening. He has a painfully awkward crush on an even more painfully awkward woman, Adrian. When we first meet him, Rocky doesn't seem like the type of person to seek out greatness; rather, he seems largely content with the life he has. For Rocky, winning isn't everything. He is completely ordinary—that is, until he is handed a great opportunity. That's when we see Rocky begin to change from the modest working-class citizen to the great Philadelphia icon he is today.
The environments in which Rocky exists also represent his journey to greatness. In this film, director John Avildsen clearly made deliberate choices regarding the shooting locations in Rocky and what they represented in the character's journey. Nearly every outdoor scene at the beginning of the film takes place in an industrial setting—ships float in the background, trains clatter by, water towers loom over the residents of the city. Trash is scattered on the ground. The color palette is bleak and hazy, and frankly, it could not be more representative of the more working-class or poor areas in the actual city of Philadelphia, as well as the meager beginnings of the Rocky character. As Rocky trains, we literally see him move from these more modest areas of Philadelphia—the dirty streets of South Philly and the bustling, working-class Italian Market—toward the more grandiose locations in the city, like the ornately designed City Hall and the beautiful Philadelphia Museum of Art.
The range of activities in which Rocky partakes—from feeding his turtles in his tiny apartment to climbing the daunting steps of the PMA—represents exactly the type of hardworking, ordinary people living in Philadelphia. He is content with his ordinary life, but he is capable of greatness, just like Philadelphia is. Rocky is a film that represents the both the everyday activities and the greatest triumphs of which a city like Philly is capable, and that is why it has become the essential cultural icon to represent us.
References
Chartoff, R., & Winkler, I. (Producers), & Avildsen, J. (Director). (1976). Rocky [Motion picture]. United States:  United Artists.
Leab, D. "Reaffirming Traditional Values – The Blue Collar Ethnic in Bicentennial America:  Rocky." In Mintz, S. & Roberts, R. (Eds.), Hollywood's America:  Twentieth-Century America Through Film (p. 264-71). Hoboken:  Wiley-Blackwell.
Leopold, T. 4 Aug. 2015. HitchBOT, the hitchhiking robot, gets beheaded in Philadelphia. CNN. Retrieved fromhttp://www.cnn.com/2015/08/03/us/hitchbot-robot-beheaded-philadelphia-feat/
14 June 2011. Interaction:  Is Philadelphia 2nd Dirtiest City? 6ABC Action News. Retrieved fromhttp://6abc.com/archive/8189374/
4 May 2010. 9 Terrible Philly Fan Incidents…And Their Harmless Explanations. Sports Pickle. Retrieved fromhttp://www.sportspickle.com/2010/05/9-terrible-philly-fan-incidents-and-their-harmless-explanations