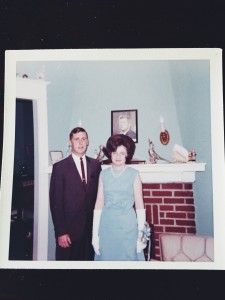 The story:
My grandparents were engaged November in 1963 and planned to be married the following summer in June of 1964.  My grandmother, Sarah, worked at the Curtis Publishing Company located in Old City and my grandfather, Robert, was a full time graduate student at Temple University.  They first saw the President when he was visiting Philadelphia during those early years in the 1960s.  They waited along Frankford Avenue with friends and cheered and waved American flags as he drove down the avenue in his motorcade.  He was campaigning for his election, the same as he was when he was assassinated.  My grandmother humorously compared the spectacle to the way Philadelphia was when the Pope recently visited back in September.
The day JFK was killed my grandmother was at work and my grandfather was at his parents' home studying for an exam.  My grandmother and the rest of her coworkers stood around the small black-and-white television in the lobby of the building for what seemed like hours.  Everyone watched the news and no one spoke, she said, everyone was in shock.  My grandfather was listening to the radio while he was studying and the music was interrupted with the announcement, and he gathered his family around the radio to listen to what the radio hosts were reporting.  He recalled feeling confused because the radio hosts didn't seem to have much information.  Later that evening, my grandmother went over to my grandfather's house to help him study for his exam, but they couldn't concentrate on the material.  It was hard for them to fathom what had happened that day.  They said everyone they knew and our family members were in shock.  Temple canceled their classes the next day.
Why They Loved Him:
My grandmother loved fashion.  She had all the big name magazines and was a frequent shopper at her local fabric store where she would buy fabric to make her own dresses and skirts.  She loved Jackie Kennedy.  My grandmother was someone that saw her as a fashion icon.  She loved seeing when new pictures of Jackie were released so she could remake what she was wearing or gain her own inspiration form the images.  My grandmother made a black skirt and black silk camisole when JFK was killed.
Because of the way the Kennedys were portrayed during his presidency, my grandparents thought of them as the perfect family.  They were engaged; they wanted a family to be exactly like the Kennedys.  They were beautiful and healthy and seemed to have had it all.  My grandfather jokingly mentioned how even he was taken back by JFK's handsome appearance and how much better he looked standing next to Nixon.  This is something that my grandparents look back on fondly; they have said that they didn't pay attention to scandal news when it came out.
My grandparents wanted to create their own Camelot in their West Philadelphia row home.  It is interesting to hear their story and compare it to the way the Kennedys are viewed today.  They look back with such nostalgia, they think nothing is wrong with the family or listen to the rumors and conspiracy theories.  They take real politics out of the mix and look at the family for what they were, a family.  My grandparents' memory of the Kennedys today is so pure that I think many people should forget any negative judgement of the family and remember the tragic event that caused a wife to lose her husband and children to lose their father.  In the end, that is what made my grandmother so emotionally upset about the assassination.  My grandparents appreciate the legacy left behind and still honored by the Kennedy family.
Note on Photo: The cross over the fireplace was replaced with this picture of the President during the Camelot era.  Pictured here: my grandmother's younger sister (my Great Aunt Mary-Anne, dress made by my grandmother) on her way to her high school's prom, overlooked by JFK.