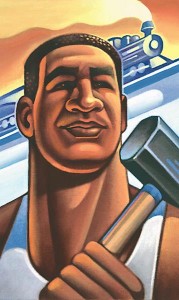 This 1996 art deco illustration of John Henry, featured on postage stamps, illustrates the beginnings of integration and positive racial relations that were hallmarks of the 20th century. John Henry is pictured alongside a seemingly modernized rail, smiling contently toward the horizon with his iconic hammer. Although the illustration takes the style of an earlier era, it was printed in the 90's, a much more integrated period than that of the style it attempts to emulate. That being said, even despite the significant social change between the early 20th century and the time of that art style and the 1990's, the beginnings of said change were already evident by the 1920's with employment opportunities slowly but surely opening up for black Americans.
In the traditional style of a John Henry depiction, as described by Scott Nelson's, "Who Was John Henry?", Henry is shown holding a hammer alongside an operating rail, seemingly implying his contribution toward its construction. As prescribed by John Henry's eponymous folk tune, the hammer is shown prominently in the frame; Further allusions to the folksong can be found in the orientation of the train in the background, climbing a vague structure that could easily be interpreted as being "in these mountains", as described by the song.
The image harkens back to 20th century industrial propaganda, a common occurrence in most western nations through the 1950's. A colorful, confident, and nationalistic depiction of white men helping to build their countries was common in the United States, Europe, Nazi Germany, and the Soviet Union all throughout that time. This illustration of Henry almost flips that archetypical painting on its head by depicting a black man as responsible for American prosperity– truly a sign of the times for the progressive 1990's. Although this illustration makes few allusions to the potentially true stories of John Henry, it rings very true to his myth, and shows how the archetype of his character has remained relevant into the present day.