Principle Investigator
vishnu.murty (at) temple.edu
I am the principal investigator of the Adaptive Memory Lab, which is housed in the Department of Psychology in the Cognition and Neuroscience area at Temple University. In addition, I am affiliated Faculty in the Neuroscience and the Interdisciplinary Decision Neuroscience program. Prior to joining the faculty at Temple, I received my PhD in Neurobiology from Duke University, completed a post-doctoral fellow at New York University, and junior faculty at University of Pittsburgh's Psychiatry department. My research has been funded by the Behavioral and Brain Research Foundation and NIMH.
David Gregory
Graduate Student Researcher
david.gregory (at) temple.edu
I am a graduate student in the BCS Program at Temple studying motivation, learning, and memory using fMRI and behavioral methods. My background is in behavioral/EEG human learning and memory research, neural mechanisms of LTP/LTD plasticity, and stress, fear and PTSD in basic (rodent) research, and as a grant writer for researchers in radiochemistry, psycho-oncology, and behavioral science at Memorial Sloan Kettering. I try and find spare time to hang out with Lenny (my spaniel-poodle), discover new restaurants, go to concerts, see friends in NYC and family in Colorado, and get to know Philly.
---
Kaitlyn O'Neill
Master's Student Researcher
k.oneill (at) temple.edu
Kaitlyn O'Neill is a first-year student in the Neuroscience Masters program at Temple. O'Neill graduated from The Pennsylvania State University in 2017 with a degree in psychology and a focus on cognitive neuroscience. In her free time, O'Neill is an abstract artist who has exhibited pieces in venues across the tri-state area and also enjoys playing with her dog, Nimbus.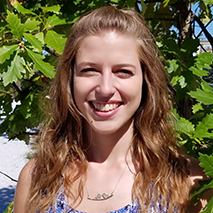 Elizabeth Eberts 
Research Associate/AURORA Project
elizabeth.eberts (at) temple.edu
I graduated from Alfred University in December 2017 with a BA in Psychology. In the lab, I am studying how reward plays a role in the contextual organization and consolidation of episodic memories. I am also working on the AURORA study, which involves multimodal testing in an effort to better understand the recovery process after trauma. In my free time, I enjoy baking, going to the beach, listening to music, and playing with my two giant rabbits!
---
Jane Rothrock
Research Associate/AURORA Project
jane.rothrock (at) temple.edu
I recently graduated from Rutgers University, where I studied Cognitive Neuroscience & Psychology. I'm passionate about memory research, especially as it relates to dementia and mental illness. When I'm not researching the brain, you can find me kickboxing, drinking coffee, and watching movies about space.
---
Matthew Fain 
Research Associate 
matthew.fain (at) temple.edu
I graduated with a BA, Psychology from UC Berkeley in 2017. At the moment, my research focuses on understanding the nature and utility of consolidation during post-encoding rest periods. Outside of the lab, you'll find me expanding my collection of concert tickets, getting caught in the rain, or experiencing good food (sometimes in that order).
Brandon Katerman 
Undergraduate Research Assistant
tug49686 (at) temple.edu
I am a junior undergraduate with a major in Psychology and a minor in Cognitive Neuroscience. I'm currently studying recall patterns from free recall experiments using temporal and semantic lists. When I'm not doing research, I love hiking, working out, and cooking delicious food.
---
Nicole Gonzalez 
Undergraduate Research Assistant
tuh40131 (at) temple.edu
I am currently an undergraduate student at Temple University majoring in Neuroscience. I am part of the AURORA project where we are researching the effects of trauma, in particular, what occurs during the recovery process after experiencing a trauma. In my free time, I enjoy spending time with my family, trying new restaurants in the city, and binge watching Grey's Anatomy!
---
Devlin Eckardt
Undergraduate Research Assistant
tuh19431 (at) temple.edu
I'm a sophomore undergraduate at Temple University studying Neuroscience. My research stems from a curiosity in health care disparity and cognitive disorders. In my free time, I like to bike around the city, finding new places to eat and relax
---
Ian O'Shea
Undergraduate Research Assistant
tul15171 (at) temple.edu
I am a junior undergraduate studying behavioral neuroscience at Northeastern University. During my research co-op I will be studying many aspects of the adaptive memory system, especially in populations at-risk for psychosis. In my free time, I enjoy listening to all types of music and going to concerts.
---
Vandanna Haripersaud
Undergraduate Research Assistant
tug56811 (at) temple.edu
I am a junior Neuroscience major, and I plan to do the 4+1 in Neuroscience program here at Temple. I am interested in studying mental health and medicine due to mental illness in my family. In my free time, you will catch me under a blanket watching nothing but horrors, studying or hanging out with my friends. I'm also always eating, so ask me about snacks!
---
AML Alumni:
Patrick Holt 
Abhishek Dutta
Allie Neeson
Collaborators:
Science is more joyful when you work with other great people!