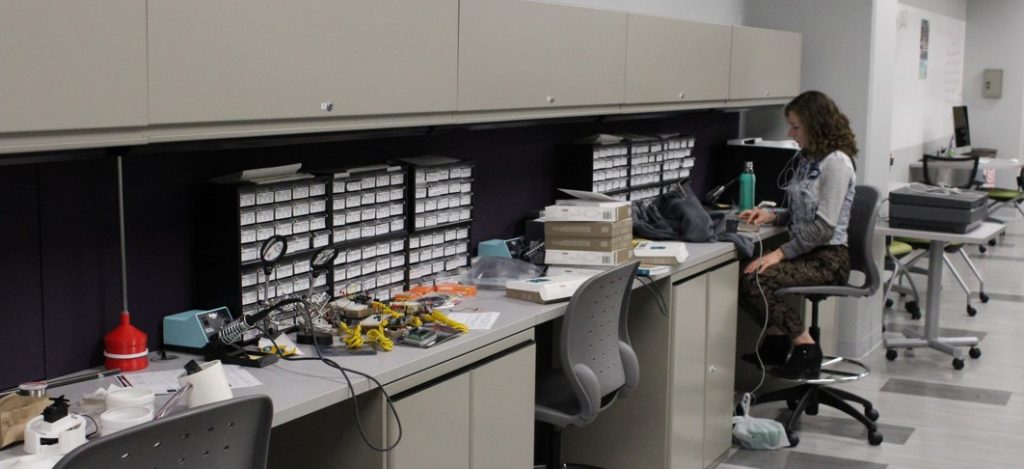 The Digital Scholarship Center Makerspace offers space, equipment, and support for collaborative and critical making for academic and personal projects. Open to all Temple University community members, we encourage learning and experimentation through hands-on making and tinkering. No experience is necessary, though an equipment safety training must be completed before using the 3D printers, laser cutter, and Arduino/Rasberry Pi equipment. To schedule a training session or reserve a piece of equipment, email the DSC or drop by during open hours.  To view laser cutter and 3D printer availability, see the equipment schedule below.
Small material/equipment fees apply for 3D printing and laser cutting. For more information, check out our user agreements for our 3D printers, laser cutter, and Arduino/Rasberry Pi workbench.
Makerspace Equipment
FDM 3D Printer: Big Box
Materials: Assorted filaments, including nGen plastic, ironfill and steelfill composite, woodfill composite, & ninjaflex
SLA 3D Printer: Formlab Form2
Materials: Formlab resins, including Gray, Clear, Flexible & Tough
Universal Laser Systems VLS 3.60 Laser Cutter
Materials provided by user. Check with DSC staff regarding eligible material. 
DAVID 3D Structured Light Scanner Pro S2
Raspberry Pi and Arduino
Assorted shields and electronic components, including breadboards, wire, LED lights, etc.
Power tools and supplies
Dremel, soldering iron, glue gun, box-cutters, drill
Benchtop power supply
Oscilloscope
Lockers to store your projects
Available for Checkout
Kodak PixPro SP360 4K VR cameras
Canon E0S Rebel T5 DSLR Camera and accessories
Equipment Schedule