CLIR Postdocs
The Council of Library and Information Resources has sponsored four fellows at the Digital Scholarship Center. For more information on the CLIR fellowship, see here:  https://www.clir.org/fellowships/postdoc/
Alex Wermer-Colan  (2017 – 2019)
As a CLIR Postdoctoral Fellow, Dr. Henry Alexander Wermer-Colan will develop his own research and contribute to digital scholarship outreach during his two-year appointment. Alex holds an M.A. in the Humanities from the University of Chicago and a Ph.D. in English from the Graduate Center, City University of New York. His research reconsiders a decadent lineage in Euro-American literature as a counter-discourse to an increasingly cynical imperial ideology in the twentieth-century. His current work explores the potential of digital tools for rhetorical and ideological analysis, both of primary sources like avant-garde works of literature and, secondary sources, such as reviews of post-1968 war films. Alex runs workshops for the DSC on computational methods of interpretation, while offering consultations, and developing research projects curating data and teaching primary source literacy using the Center's growing corpus of science fiction literature and the Charles L. Blockson Afro-American Collection.
Jen Grayburn (2016 – 2018)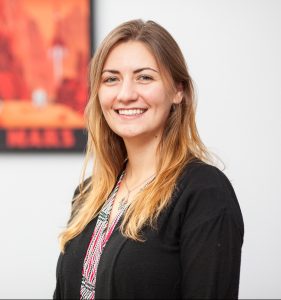 As a CLIR Postdoctoral Fellow, Dr. Jennifer Grayburn will develop her own research and contribute to digital scholarship outreach during her two-year appointment. Jennifer holds an M.A. in Medieval Icelandic Studies from the University of Iceland and a Ph.D. in the History of Art and Architecture from the University of Virginia, where she also held Praxis Fellow and Makerspace Technologist positions at UVa's Scholars' Lab. Her research uses text-mining and GIS viewshed analysis to examine the intersecting physical and textual manifestations of St. Magnus Cathedral, a twelfth-century church in Orkney, Scotland. As a contributor to the Monasticism in Iceland archaeology project, Jennifer is currently expanding her research to analyze architecture in the Icelandic sagas more broadly, incorporating examples from throughout the North Sea and North Atlantic regions.
Elizabeth Rodrigues (2015-2016)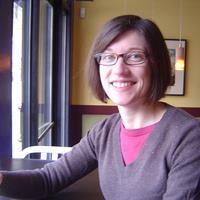 Liz completed her Ph.D. in English at the University of Michigan in 2015 and joins the Temple Digital Scholarship Center as a postdoctoral fellow. Her work on data, narrative, and life writing is situated at the intersection of data as an epistemological concept, representational form, and modernist aesthetic. Her dissertation, Data-Driven Modernism, mapped early twentieth century literary experiments with the concept of of data as a tool for representing human lives. She is currently extending both the conceptual and methodological ramifications of this project by working on using digital tools to model immigran‌t narratives in autobiographical and fictional genres and collaboratively assembling an augmented text for teaching U.S. modernist literature. Her past digital projects have included the development of a set of interactive online tools for teaching the revision process and building digital collections to highlight student work. She looks forward to being a catalyst, collaborator, and creator as digital humanities scholarship grows at Temple.
Beth Seltzer (2014-2015)

Beth Seltzer is a PhD candidate in Temple University's English program. She also explores the tools and methodologies of textual analysis in Temple's Digital Scholarship Center. Her dissertation focuses on the new ways of managing information which rose in the mid-Victorian era—railway timetables, telegraph messages and codes, bibliographic systems and serialization—and examines them alongside detective fiction. Her research and her digital work both explore questions of how we process and organize information, and how we get from facts to meaning.