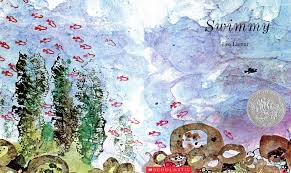 This week your child is learning the words eel, seaweed, swift, and gulp. The words come from the book, Swimmy. 
Explain what the words mean and talk about them with your child. As you're going through the week, try to talk about each word three times.
Swift means very fast. This runner is the swiftest man in the world.
Ask your child whether a swift runner would run fast or slow. 
Seaweed is a type of plant that grows in the sea. This seaweed has washed ashore.
An eel is a long fish that looks like a snake and has smooth slippery skin.
Gulp means to quickly swallow. This eel is gulping water.
Congratulations, you are helping your child grow a large vocabulary!