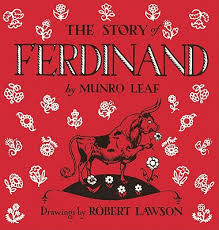 This week your child is learning the words bull, pasture, fierce, and matador. The words come from the book, The Story of Ferdinand. Explain what the words mean and talk about them with your child. As you're going through the week, try to talk about each word three times.
Look below for a youtube video of the book to enjoy with your child. Listen for the words and point them out to your child.
A bull is an adult male cow.
A pasture is a grassy land where animals eat. The bull is in a grassy pasture.
Fierce is strong and scary. The bull looks fierce.
A matador is a bullfighter.
Congratulations, you are helping your child grow a large vocabulary!