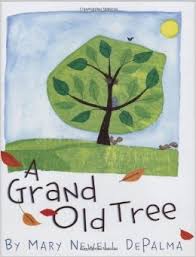 This week your child is learning the words roots, creatures, landscape, and bask.  The words come from the book, A Grand Old Tree. Watch the video below to hear the storybook being read. Listen for the vocabulary words and point them out to your child.
Ask your child what each word means, and if they don't know, explain the meaning to them or show them an example. As you're going through the week, try to talk about each word three times.
Roots – The roots of a tree or plant are in the ground. The roots are the part of the plant that grows downward and hold the plant in place, and absorbs water and minerals from the soil.
Creatures – animals or insects. Many different creatures live in a tree.
Landscape – the land and sky that you can see from one point. Landscapes can be very beautiful.
Bask – lie or lay down in a warm, calm place. This turtle is basking in the sun.
Congratulations, you are helping your child grow a large vocabulary!