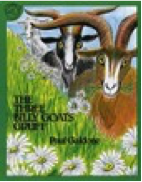 This week your child is learning the words wobble, valley, hooves, and stomp. The words come from the story, Three Billy Goats Gruff. Ask your child what the story was about. If you would like to hear the story together, watch the video below of the storybook being read.
Explain what the words mean and talk about them with your child. As you're going through the week, try to talk about each word three times.
Wobble – to move or tip from side to side in an unsteady way; be out of balance. The bike wobbled because its front wheel was bent. Most babies wobble when learning to walk.
Valley – a long area of low land between mountains or hills. A stream or river often runs through a valley.
Hooves – the hard, tough covering on the feet of certain mammals such as horses, pigs, and deer.
Stomp – to stamp or walk heavily upon so as to smash or otherwise harm. Children may stomp when having a temper tantrum.
Congratulations, you are helping your child grow a large vocabulary!