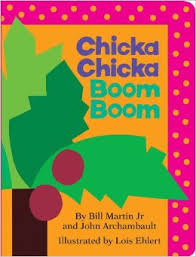 This week your child is learning the words coconut, tangle, loop, and wiggle. The words come from the book, Chika Chika Boom Boom. Ask your child what the story was about.
Ask your child what each word means, and if they don't know, explain the meaning to them or show them an example. Here are easy definitions to use.
A coconut is a large nut from a coconut tree.
To tangle is to be mixed up or knotted up.
A loop is the rounded shape made when a piece of string or rope curves back and crosses itself.
To wiggle is to move with quick, twisting motions from side to side.
Congratulations, you are helping your child grow a large vocabulary!