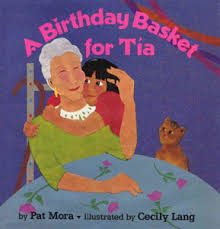 This week your child is learning the words pineapple, watermelon, basket, and musician.  The words come from the book A Birthday Basket for Tia. Ask your child what the story was about.
Explain what the words mean and talk about them with your child.
Pineapple – a juicy, yellow, tart fruit. The pineapple grows on a tropical plant.
Watermelon – a large, juicy fruit that has a hard green or yellow skin, pink or yellow flesh, and many black seeds.
Basket – a container made of thin pieces of wood, metal, or other materials that are woven together.
Musician – someone who makes music. These musicians play wind instruments.
Congratulations, you are helping your child grow a large vocabulary!