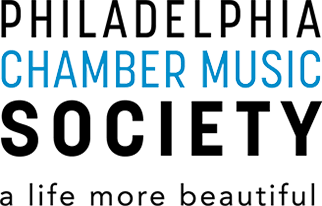 A New Model for the Performing Arts
The mission of the Philadelphia Chamber Music Society is to engage our community in a life more beautiful through the shared experience and transformative impact of chamber music, to make great repertoire and today's leading artists available to everyone wishing to participate, and to build audiences and support for this incredible art form.
Each year, we present a varied season of 50-55 concerts by world-renowned artists—all for just $30 per ticket or less—and 50 education programs to train and inspire young people. We also serve audiences by providing high-quality and personalized service, community outreach, pre-concert lectures, curated experiences, and a friendly and welcoming concert environment.
The Society is far more than a concert presenter. We have deep roots in Philadelphia and throughout the world of music. Our performances are a place of connection and community, where artists and audiences share and enjoy experiences that are fundamentally human, and yet transcendent—where the trivial gives way to the essential, and where we are all connected to a life more beautiful.
Since its founding by Anthony Checchia in 1986, the Philadelphia Chamber Music Society has presented more than 1,700 concerts, commissioned 60 new works, and presented 100 world premieres. Great artists, compelling repertoire, affordable prices, and a friendly and welcoming community have been the hallmarks of this organization from the beginning.
Our annual 50-concert season features eminent string quartets and other ensembles, renowned pianists, great string and woodwind recitalists, an acclaimed art song series, early music, new music, guitarists, and a rich diversity of programming. The Society is a founding resident company of the Kimmel Center, with 35 concerts in the Perelman Theater each year, and presents performances also in collaborations with the American Philosophical Society, Musical Fund Society, and other cultural institutions.
Each season, to enrich the lives of young people, we also present more than 50 education and outreach programs and distribute more than 800 free student tickets. These programs, along with our commitment to affordable pricing, are opening doors to participation in the arts—building new audiences, enthusiasm, and support.
Press
The Philadelphia Chamber Music Society has taken the lead as the city's constant reminder that it's all about artists and repertoire. In fact, without a single concession, the scale and quality of the series is unlike anything else in the country.Peter DobrinIt may be obvious to anyone who regularly attends Philadelphia Chamber Music Society concerts, but it's even more clear now: Feeling part of a group reinforces the relationship with art. To stand in the lobby of the Kimmel Center at intermission and overhear a conversation about the sound quality cultivated by a particular pianist or string quartet is an exhilarating thing. Over time, you befriend audience members, you develop ways of talking about the art, and it changes your musical values.Peter Dobrin
PCMS deserves credit for sheer scope and vision. The chamber music setting need not be small on ideas… and those ideas can marry intellectualism with old-fashioned musical enjoyment.Cameron Kelsall
In All Times, Music Unites Us—It is a Constant Companion, Inspiration, and Source of Strength

We are sorry that the virus outbreak compelled us to cancel the remainder of our 2019-20 Season. We were so looking forward to enjoying these wonderful artists and works with you. We are pleased to report that, because of your contributions and ticket donations, we were able to provide some compensation to those musicians whose concerts could not take place, and who rely on performance fees for their livelihoods.
We hope you will join us for our 2020/21 Season, as we celebrate our 35th Anniversary. Your support of our live-streamed and in-person events and your Annual Fund support ensure that we will emerge from this period in a strong position, ready for "social closeness," and to provide the exceptional music-making that has enriched us all since 1986. If anything good has come from this outbreak, it is our increased appreciation of the beauty, meaning, and healing power of live performance.
We thank you for your friendship, encouragement, and generosity, and we hope that you stay well, upbeat, and engaged.  Please know that our thoughts are with you, and we will make it to the other side of this together!